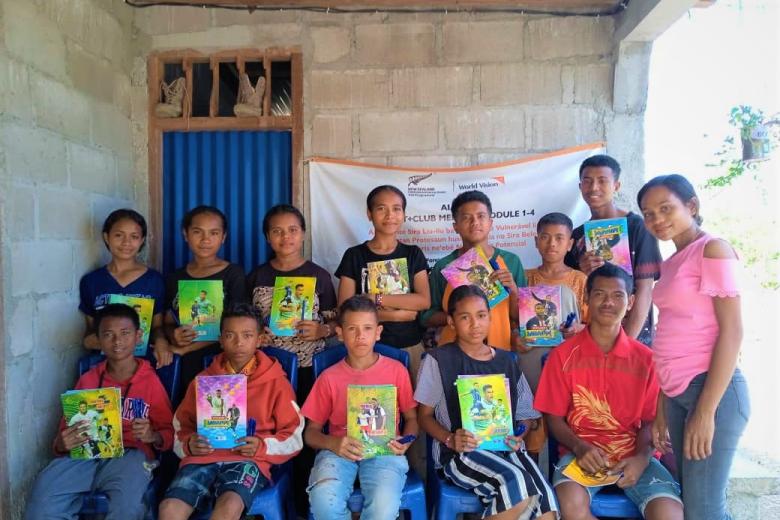 Amalia is a motivator for her friends in school
Tuesday, July 4, 2023
Bullying is a type of aggressive behaviour that occurs in communities, schools, neighbourhoods, or among family members. In Bobonaro municipality where World Vision serves, a girl named Amalia, 17 years old used to bully her friends either inside or outside of school. She didn't realise that bullying physically or verbally can hurt other people badly. She also disobeyed her parents and did not take responsibilities in their house.
Amalia's friends encouraged her to join the IMPACT club and her life changed.
"I reflected on my bad attitude before. And with some lessons I learned, I now help my parents do household work by washing my clothes, cooking and washing dishes, or cleaning the house. These changes have a positive impact on me," explained Amalia.
During the training, Amalia also had a chance to be a local leader leading the group discussion. "I feel it's important to be able to serve as a local leader. I learned how to find a solution to a problem, give attention to the adolescents and youth by creating healthy relationships, and lead a dialogue with parents to support their children in positive ways." 
World Vision through the Roman ba Foin Sa'e Project, supported by the Ministry of Foreign Affairs and Trade–MFAT - New Zealand, supported adolescents to be protected from violence and create healthy relationships in their community. In Bobonaro there are twenty-five clubs are established which are composed of 472 girls and 308 boys who are IMPACT members. 
"We provided training through the IMPACT+ module by teaching them positive interaction among adolescents, games, stories, and reflection learning by involving them in group discussions and problem-solving leader," said Isabel, World Vision's project coordinator.
The initiatives taken have taught Impact members about changing their personal behaviour and creating positive vibes in their community.
Amalia's life is a great example to others as a motivator and she now prevents her friends from arguing, asking each other in the school to be in peace and patient. She also now supports her parents in taking care of small household tasks and she studies hard to be successful in the future.