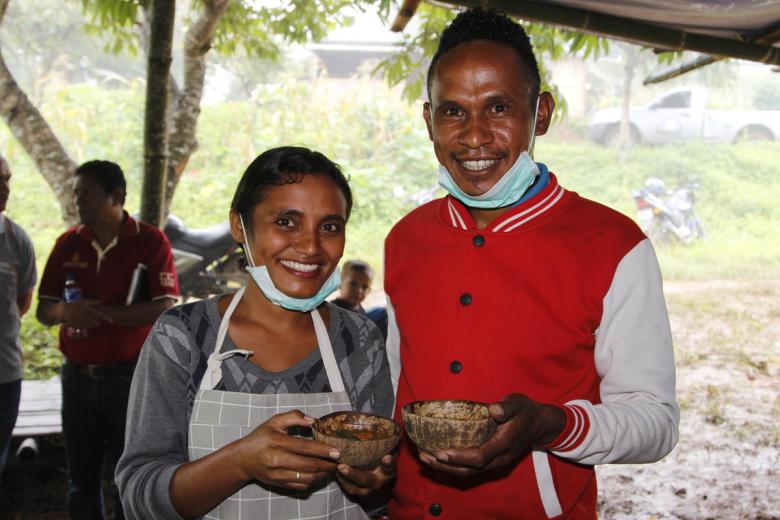 Couples cooking competition a key ingredient in nutrition promotion
Wednesday, July 24, 2019
On a rainy, March day in Venilale, Baucau Municipality, Timor-Leste, teams of husbands and wives stand at their cooking stations in preparation for a couples cooking competition. The competition is one of the activities at Farmer Field Day, an event run by World Vision through the TOMAK (To'os ba Moris Di'ak) Farming for Prosperity project to promote key nutrition messages to improve the health of children and mothers.
Running the competition is Julieta, a community health volunteer and leader of a food processing group supported by the project. "During Farmer Field Day, I prepared couples to demonstrate cooking two kinds of nutritious foods: tofu and tempeh filled with eggs, and moringa soup with chicken meat. This helps parents truly understand cooking nutritious foods, because their role is very important in maintaining the nutrition and health of their children," she said.
As part of the project, Julieta also runs a parents club where she promotes nutritious local foods, including orange sweet potato, moringa and soybean. "When parent club members try the nutritious food, they are very eager to plant and process it (into food products)," Julieta said.
Julieta chose recipes from the parents club curriculum for the cooking competition. She explained to the contestants the importance of the nutritious ingredients in the recipes. The competition deliberately involved men to ensure both mothers and fathers are aware of the importance of nutritious food in their children's diet.
Mariano, 32, and his wife Jesuinha, 28, were one of the participating couples. They learned how to make moringa soup, which they know will be a healthy meal for their two-year-old son Pedrino. "We both cooked moringa soup mixed with chicken and orange sweet potatoes. This soup is very good for our son Pedrino's health and body development," Jesuinha said.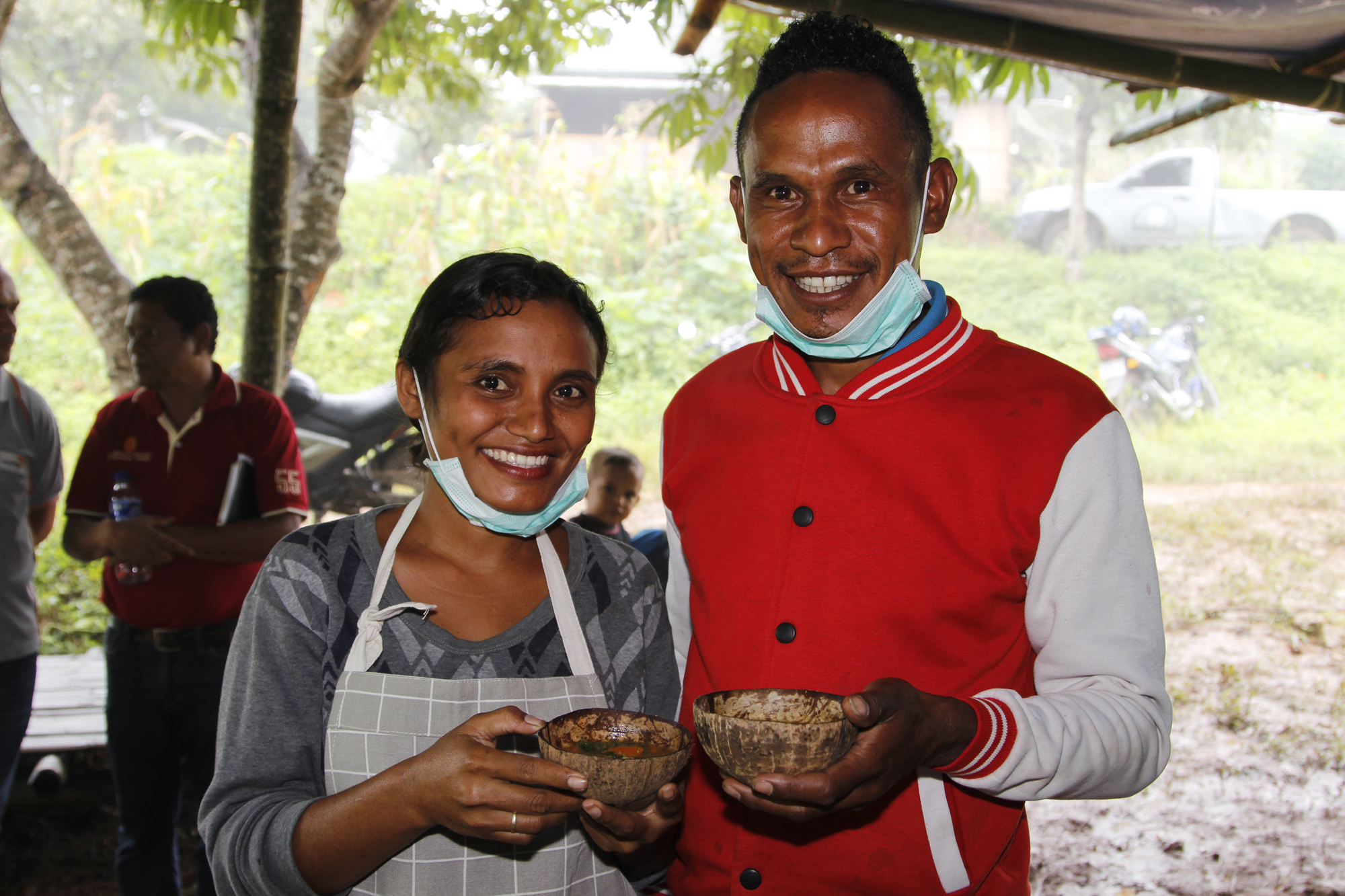 Jesuinha and Mariano prepared moringa soup for the cooking competition at Farmer Field Day. Photo: Jaime dos Reis/World Vision
Dulce, 45, and her husband Hermenigildo, 43, also participated, and made tofu filled with eggs. They said they love cooking and showing other parents in their community that local food can be processed into nutritious cakes, crackers and tofu.
Through the project, the couple have learned how to cook nutritious food for their five children. At the Farmer Field Day competition they demonstrated what they have learned.
"Cooking nutritious foods with recipes is a new thing in my life because all this time I have focused on working in the garden," Hermenegildo said. "Now I know how to cook with nutritious food."
Dulce and Hermenegildo have also received training on growing and processing nutritious foods to eat and sell.
"My previous experience was that many local foods such as corn and cassava were boiled and fed to children, but their appetite was lacking and a lot of the food was thrown away. However the food provided by World Vision we have planted and tried to process into cakes, crackers and tofu. My children like to eat them and their health condition is good," Dulce said.
Their seven-year-old son Hugo agreed. "My parents planted and harvested orange sweet potato. They have also cooked it into cakes and fried crackers. I eat it constantly and it tastes great," he said.
"The nutrition project from World Vision is very helpful for us to promote eating nutritious foods in our families. The food is very easy to grow in our garden," Hermenegildo said.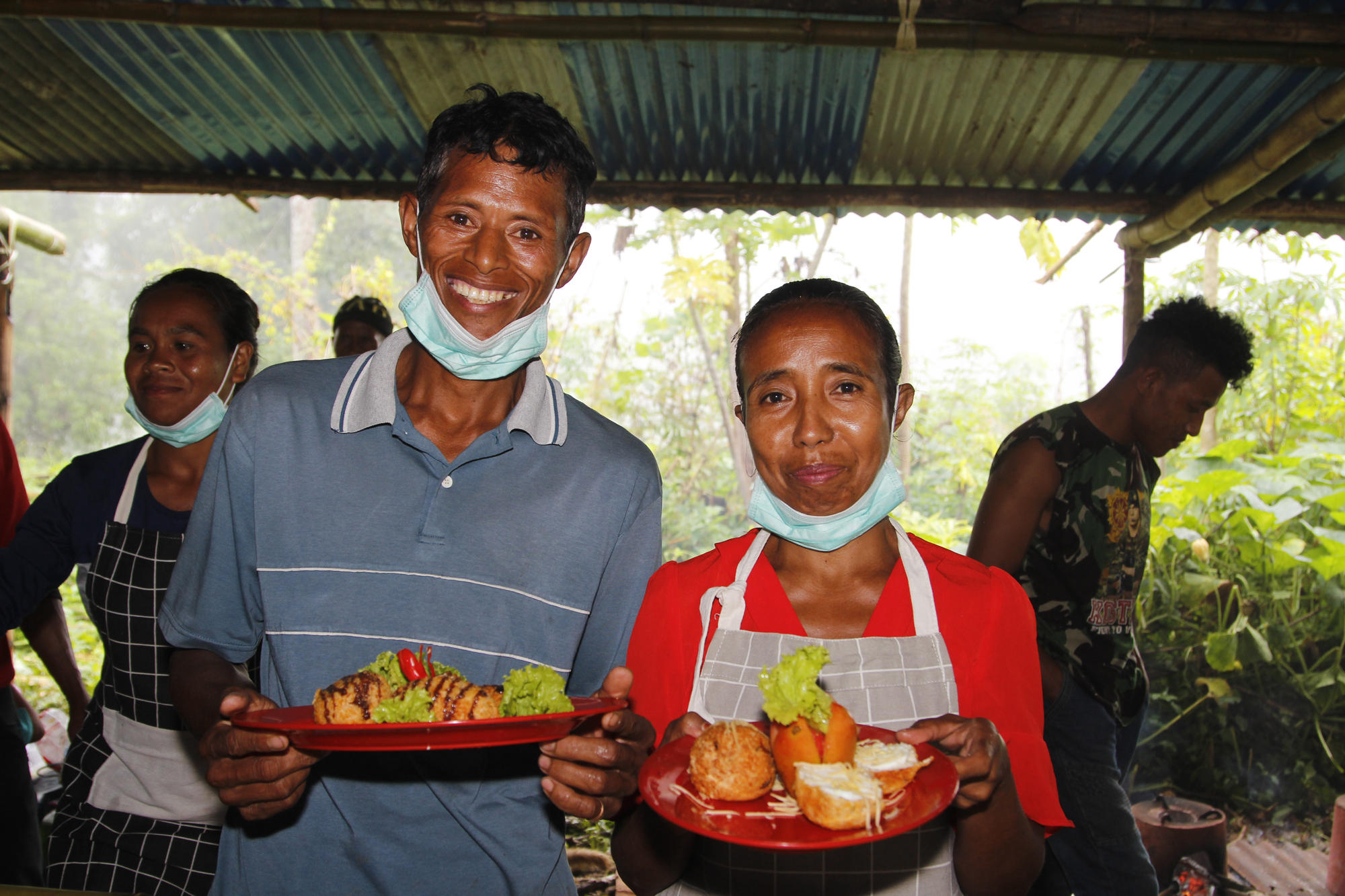 Hermenegildo and Dulce prepared tofu filled with eggs for the cooking competition. Photo: Jaime dos Reis/World Vision
The Farmer Field Day activities were successful in raising community awareness about growing and processing local nutritious food to improve family nutrition and income.
Julieta said that after the event, several communities in other sub-villages began to set up their groups to grow and process local nutritious food. They have planted orange sweet potato vines in the rice fields, and hope to harvest soon.
"I am very happy because through Famer Field Day, many local authorities including Baucau Municipality, Administrative Post and health officers began to know our group from when we presented our products and snacks made from local foods," Julieta said.
"As a result of Farmer Field Day, we are now a catering service, specifically providing snacks twice for meetings at the Administrative Post office with an income of US$80. In the future, the administrator will invite us to provide local food for big events," Julieta said.
World Vision is an implementing partner of the TOMAK project, which is supported by the Australian Government.