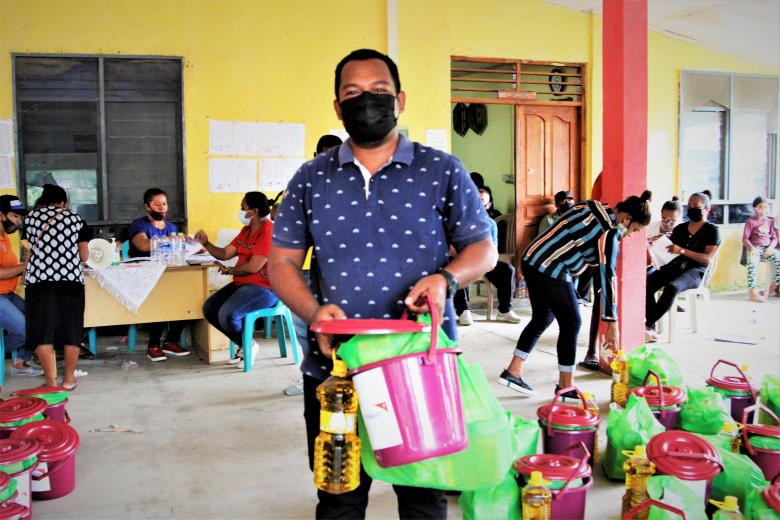 Hygiene kits and food baskets a lifeline for flood-affected families in Dili
Monday, January 17, 2022
Water raised rapidly to the houses next to the rivers, even reaching community houses in the city away from the rivers. Landslides occurred, causing many people to lose their homes, animals, plants, even injuring people and causing loss of life. As the water came towards their homes, children screamed with panic and cried while their parents and relatives were trying to evacuate them to the safest place. This natural disaster was identified as the tropical cyclone "Seroja".
World Vision, through the Ministry of Foreign Affairs and Trade (MFAT) project, supported the Timor-Leste Government in responding to the flooding. Distributions of 300 hygiene kits and food baskets were completed (each household received both kits each). The items included rice, cooking oil, salt, fish cans, eggs, biscuits, hand-washing buckets, masks, toothpaste and brushes, soap and dignity kit.
 "I am thankful for World Vision's support I received as we are in the pandemic on top of the flood disaster. Food baskets and hygiene kits will ensure my family survives until our normal life is recovered," Natalino explained. During the flood emergency, Natalino also received humanitarian response from other institutions, NGOs and youth solidarity groups that helped his family survive during the pandemic and rebuild his house damaged by the cyclone. 
 "The items are distributed to the households which are identified as the most vulnerable affected by the flood," Said Humbelino, a World Vision emergency response focal point. "We distributed the items based on the list assessment households collected by the government."
Humbelino said his team faced challenges distributing items due to some household names not being mentioned in the list. Some were moved out to another place without getting any information. This also caused the spread of COVID-19 to rapidly increase. World Vision prepared stock items and an immediate list of names to support. "During the distribution process, the team maintained social distancing, used masks and washed hands regularly," Humbelino said.
As of government data, 42 people have lost their lives, 38.000 households are destroyed across the country due to the cyclone. In the capital, Dili, 41 evacuation centres were provided for 25,000 households that were damaged and the families of people who died during the disaster.