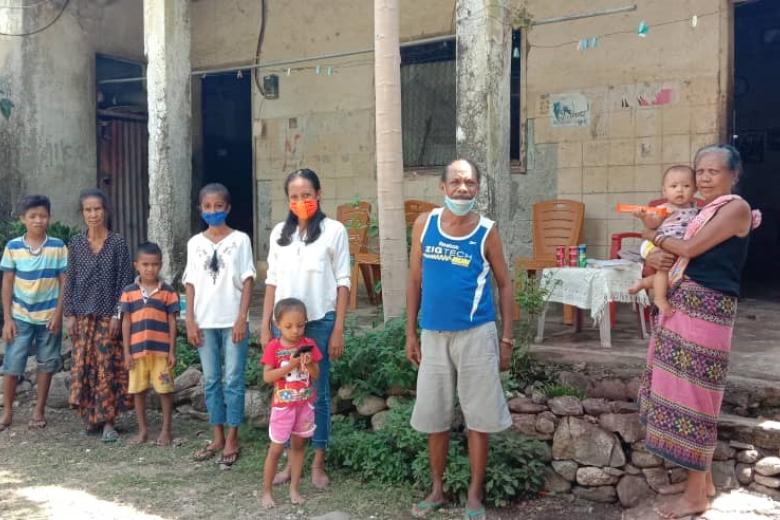 Increasing community awareness on COVID-19 prevention in Bobonaro
Wednesday, August 26, 2020
To help save lives from this outbreak, World Vision, with support from the Australian Government through the Australian Humanitarian Partnership (AHP) Disaster READY program, conducted Training of Trainers to community health volunteers and local leaders in 50 villages in Bobonaro. The training aimed to raise awareness of COVID-19 prevention so they could share the messages with their communities.
Maria, 33 years old, participated in the training. 
Maria and her ten family members are farmers and live together in one house. During the State of Emergency decreed by the government, Maria and her family have stayed at home. However, Maria didn't know how to prevent COVID-19 from spreading in her household or community. So she decided to participate in the training provided by World Vision.
"This training helps me to protect myself from the disease as I know to frequently wash my hands with soap, use a mask when going outside and maintain a physical distance of at least one metre," she said with a smile. As a Mother's Support Group member, Maria received a COVID-19 prevention poster from World Vision and will share prevention messages with her family and community.
Maria is also experiencing other difficulties arising from COVID-19. "We have been staying at home for almost two months. Our food stocks are running out but we cannot go out to buy them," she explained.
Maria's 15-year-old daughter, also called Maria, accompanied her mother to the training. "During COVID-19, I have to stay at home to prevent myself from the outbreak. The most important messages I picked up from the training was washing hands with soap, covering our mouth and nose when coughing or sneezing, use masks and maintaining physical distance when going out," she said. Maria hopes the virus disappears quickly so she can return to school.
World Vision's Zito Afranio explained how the training was conducted. "In the training session, we kept maintaining a one-metre distance. As each village has around 40 participants, we divided into two to four sessions, depending on the size and location of the villages. World Vision and the village chiefs will continue to monitor households regularly to ensure they are understanding prevention measures and establishing hand washing facilities in their house."