Walking to school no longer a risk for Sara
Monday, June 17, 2019
At Sara's primary school, there is a creek that flows right through the front yard. Nine-year-old Sara has to cross this creek every day to get to her school in Leolima suco (village), Bobonaro in Timor-Leste.
In the dry season, the creek is bare and provides a perfect playground for Sara and her friends. But in the rainy season, the creek often overflows, flooding the school yard and creating mud and landslides.
On these rainy days it's too dangerous for Sara to go to school. She often misses her first class when there is heavy rain in the morning, as she has to wait for the water to subside. If there is heavy rain during school hours, she has to leave early to get home before the creek floods.
"I feel like I have lost my right to access education because of the creek," Sara said. "I miss class many times or go home early if there is rain. I don't feel safe passing through the creek and walking in the mud when it rains. Sometimes I come to school without shoes as it is easier to walk in the mud and pass the creek," she said.
Her father Humberto is always concerned for her safety when it floods. "As parents we are always worried and have to accompany them to go to school to ensure they can walk past the creek," he said.
Sara's teacher, Ferdinandus, said his students faced this problem especially in January and February when it usually rains all day. He also worries that his students will be washed away or injured trying to cross the creek.
"As teachers we advise all the students to attend class as it is their right and obligation. But when it rains it is difficult to run the class as parents don't allow their children to go to school," he said.
Ferdinandus is also a member of the Leolima Suco Disaster Management Committee (SDMC), which is responsible for community activities to prevent and mitigate disaster risks, like flooding and landslides.
In February 2019, through the Disaster READY project, the Leolima SDMC, Balibo Administrative Post Disaster Management Committee and World Vision conducted a disaster risk assessment for 12 schools. Sara and other students were involved in the COVACA (Community Owned Vulnerability and Capacity Assessment) process, and developed a risk and hazard map to identify the dangers they face. Through this assessment, an action plan was also developed to construct a small bridge and barriers along the creek to prevent flooding and landslide risks for children walking to school.
The Leolima SDMC and Bobonaro MDMC (Municipal Disaster Management Committee) then met to develop a village-level community action plan, including recommendations from Sara's school and others. This plan will help prevent and mitigate disasters, like flooding and landslides, for 2,496 people in Leolima suco.
The SDMC decided to prioritise Sara's school in their action plan. The community agreed to contribute their labour and local materials such as stone, sand and wood to build the bridge and landslide barriers. They also asked for support from government and non-government agencies to purchase steel and other materials unavailable locally, as well as a truck to transport the stone and sand. In May 2019, the community implemented their action plan, with Humberto and other parents volunteering their labour.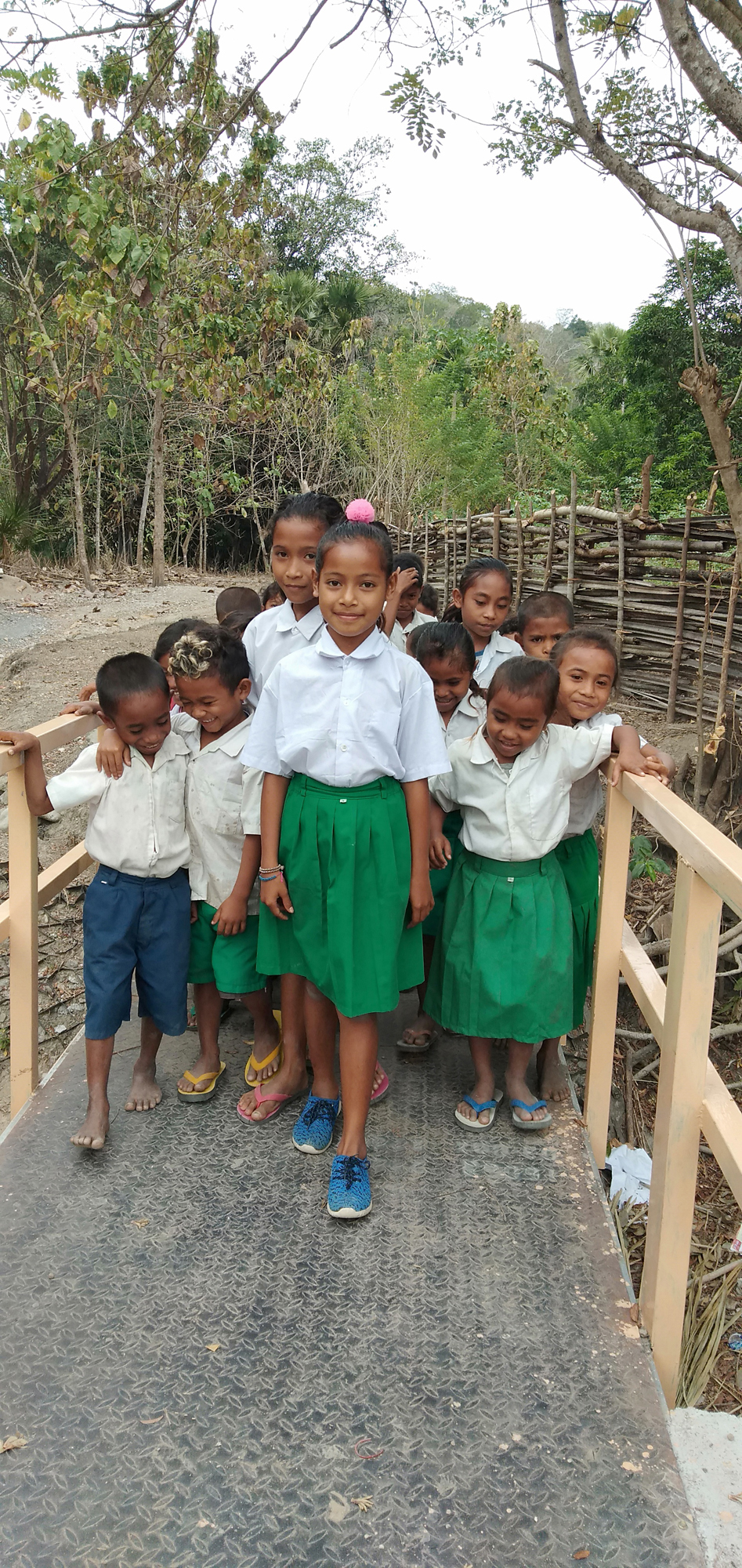 "The day we developed the action plan we were very happy because World Vision committed to support our action plan. We in the community all worked hard to prevent the risks to our children, so they can access the school and achieve their dreams and ambitions," he said.
Now Sara and her friends don't have to worry about crossing the dangerous creek in the rainy season. "I am very happy because now we walk over the bridge," she said. "If there is rain we will not be afraid anymore to walk to school. We will not miss out on class and not be late to class."
"My ambition in the future is to be a doctor," she said. Now that Sara can safely walk to school every day, she is one step closer to achieving this dream.
The Disaster READY project is supported by the Australian Government through the Australian Humanitarian Partnership.