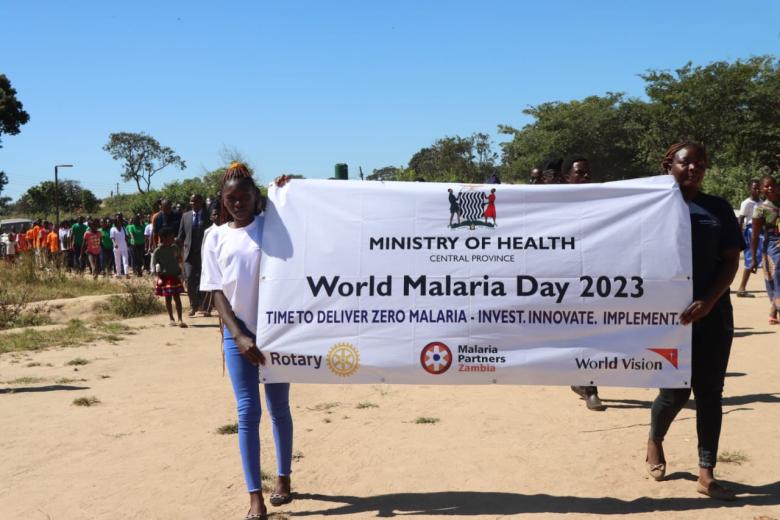 17 Community Health Workers awarded during the World Malaria Day
Wednesday, May 3, 2023
Malaria remains one of Zambia's leading causes of illness and death. World Vision Zambia is working with the Ministry of Health, Rotary International and the Bill and Melinda Gates Foundation to deliver zero malaria by investing in prevention and control strategies in Central Province.
Strategies include; the training, equipping and deploying 2500 community health workers in various ten districts of Central and Muchinga provinces.
Partners are funding all these activities for a Malaria Free Zambia (PMFZ) project, which comprises World Vision International, Rotary International, and the Bill and Melinda Gates Foundation, which started in 2021 and ends in 2024.
And as Zambia joins the rest of the world to commemorate World Malaria Day on April 25, 2023, under the theme; "Time to Deliver Zero Malaria - invest, Innovate Implement," World Vision Zambia is has awarded 17 community health workers for their outstanding performance and timely reporting.
The award is meant to motivate them as they continue with their great work.
Community health workers are responsible for testing and treating Malaria at the community level.
Speaking on behalf of the awarded health workers, Aloes Bwalya, a community health worker at Yoram Mwanje Health Post, thanked World Vision for the gesture, adding that their hard work has not gone unnoticed.
"We are very happy as community health workers because this has shown that what we do for communities has been seen by World Vision, and for that wish to thank them," Bwalya said.
During the commemoration, Malaria project coordinator Moses Mambwe disclosed that the project would start a refresher course for 1308 Community Health Workers next month.
"Starting next month, we will start a refresher course for our community health workers, with 808 being from Central and 500 from Muchinga provinces." Mr. Mambwe added.
Meanwhile, the Central Province Permanent Secretary Milner Mwanakampwe called on community members to desist from using mosquito nets for fishing.
"When health workers give you mosquito nets, and you use them to catch fish, it must end." He said.
The permanent secretary further said that the commemoration of World Malaria Day provides an opportunity to showcase the achievements attained toward the prevention of Malaria.