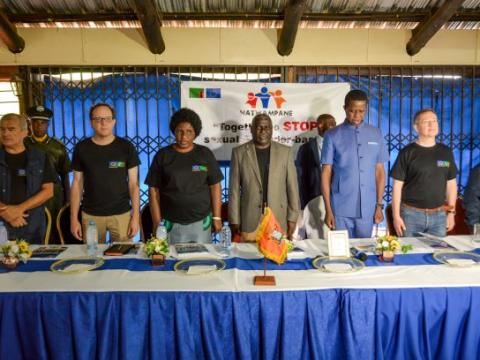 President Lungu launches Natwampane program in Northern Province
Monday, March 9, 2020
His Excellency Republican President of Zambia, Edgar Lungu has launched the European Union funded program called Natwampane 'Together to Stop Sexual and Gender Based Violence' held at Lunguwa Garden in Kasama, Northern Province.
Speaking at the launch, President Lungu urged women to report abuse to the relevant authority.
"This violence against women is getting worse but I am happy to launch this program aimed at reducing the occurrence of Sexual and Gender Based Violence (SGBV) in the communities. I also want to urge girls and women, please don't compromise and keep such abuse to yourself, report to the relevant authority, so that the culprit can be brought to book," he said.
The President emphasized that law enforcers should let the law take its full course and refrain from reconciling victims of Gender Based Violence with perpetrators.
"When I hear of reconciliation on cases that were initially in the hands of the law enforcers, it saddens me because you end up promoting such behaviour by protecting abusive men and women. I want the perpetrators to face the law and be punished for their actions, so that in turn we create an environment that respects girls and women," said Mr. Lungu.
He further called for more sensitization to be carried out to enlighten women and girls on their rights.
President Edgar Lungu also received 23 motor vehicles on behalf of the government, donated by the European Union under the Natwampane Program to be used for mobility during SGBV sensitization activities in the 23 districts of Luapula and Northern Province.
Additionally, Minister of Gender Hon. Elizabeth Phiri said the program would help end early child marriage in the provinces.
"Child Marriage cases have become common among communities but I am glad that Natwampane program launched by the President will help reduce this vice," said Ms Phiri.
The European Union Ambassador to Zambia, Jacek Jankowski, stressed the importance of working together to end SGBV.
"We need to speak out against SGBV with one voice. We can end abuse if we act as a team because together we are stronger and can make a big difference on changing cultural norms that promote abuse against women and girls," said Ambassador Jankowski.
The EU Ambassador disclosed that the Natwampane program has funding of 25 million Euros (more than K402 million).
Speaking at the same event, World Vision National Director John Hasse said World Vision is leading the implementation of the program in the Northern Province.
"We are implementing Prevent! SGBV Prevention and Survivor Support project under Natwampane program in the 12 districts of the province, working with government in partnership with Sport In Action, Catholic Medical Mission Board (CMMB), Women and Law in Southern Africa (WLSA)."
The Natwampane program is been implemented by World Vision Zambia, Norwegian Church Aid, BBC Media Action, Sport In Action and Lifeline/Helpline Zambia. The Launch was attended by local government departments, civil society organizations, the church and youth groups.