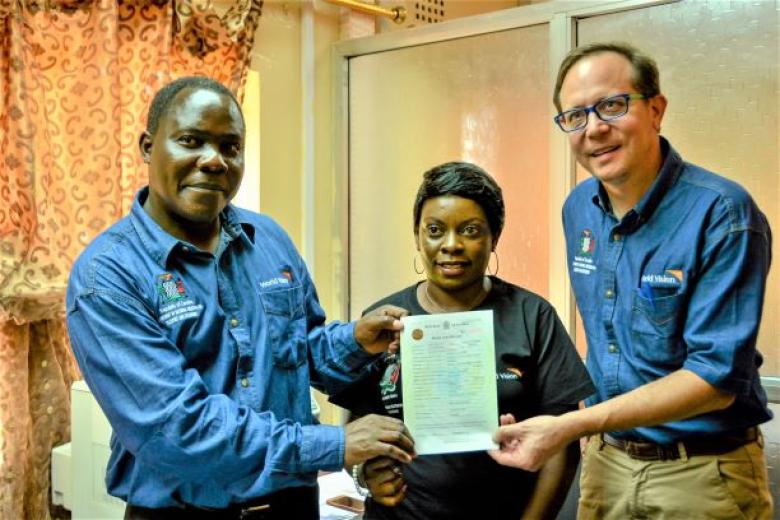 World Vision hands over birth registration issuance facility in Kasama
Monday, March 9, 2020
By Kambani Phiri - Communications Officer
World Vision in Zambia has handed over the newly built Birth and Death Certificate Issuance Centre to the National Registration and Passport and Citizenship Department in Kasama.
World Vision in Zambia National Director John Hasse stressed that birth certificates help protect children from abuse like child marriage, as they provide proof of age.
"Due to lack of identity, over two million children are unknown to governments worldwide, and as a result they have limited access to services provided in their communities. Birth registration provides child with legal identity and a proof of existence, it is a right for every child as it provides evidence of child's birthplace, parentage and proof of age especially when issues of abuse occur in trying to define whether one is a child or not," said Mr Hasse.
The National Director further reaffirmed the organisation's commitment to contributing to the development of children in the communities.
"As a child-centred organisation, World Vision has made it a priority to continue contributing to increasing knowledge and demand for birth registration and certification by working with Ministry of Home Affairs through the districts registrars departments in all provinces, where we work. From 2017 to date the districts registrars and World Vision have together worked to facilitate birth registration for over 70,000 children in June of 2019. World Vision handed over a similar birth certification centre in Chipata to help children have birth certificates without delay. This birth certificate issuance centre was developed at a cost of over $34,000 or roughly a half-million Kwacha," said Mr Hasse.
Speaking at the launch, Northern Province Assistant Permanent Sineva Kambenja, representing the guest of honour, Minister of Home Affairs Hon. Steven Kampyongo, said the issuance centre means people from Northern Province will no longer wait for birth and death certificates from Lusaka.
"This certificate issuance centre is a part of government plan to decentralise the certification process, which is meant to improve the service delivery in the issuance of birth and death certificate in the country. For instance, this issuance centre built by World Vision means people will no longer have to wait for birth or death certificates to come from Lusaka because the service is now brought at your doorstep," said Hon. Kampyongo.
The minister acknowledged the lack of awareness among citizens on the importance of having a birth or death certificate.
"My ministry working in collaboration with the Ministry of Health has established birth notification centres in 806 health centres. This means that those living near the notification centres can easily walk and register. However, we realise the lack of awareness among our people, so we have developed a National Advocacy and Communications Strategy, Information and Education Communication materials and radio programs will be airing on Zambia National Broadcasting Corporation to help sensitise our communities in the importance of birth certificates," said Mr Kampyongo.
The minister expressed his gratitude to World Vision for supporting the establishment of Kasama Birth Certificate Issuance Centre.
Beneficiaries also expressed happiness with the established Birth Certificate Issuance Centre.
Godfrey Mwansa said, "My wife and I, decided to get a birth certificate for our son because the centre is now close and everyone in Kasama can ensure that their children are registered."
Salipa Mkandawire added that the Centre would help Kasama residents have easy access to social amenities such as education and health facilities.