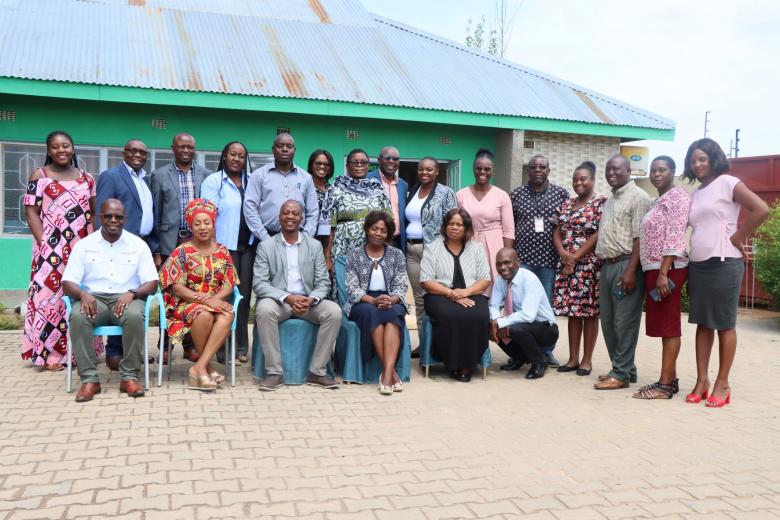 World Vision Zambia, alongside Forum for African Women Educationalists of Zambia launch Empowering Vulnerable Children with Education Project in partnership with the Education Above All Foundation
Friday, January 27, 2023
By Kambani Phiri, Communications Specialist, Zambia
In partnership with Education Above All Foundation's (EAA) Educate A Child Programme, and support from the Qatar Fund for Development (QFFD), World Vision Zambia (WVZ), alongside Forum for African Women Educationalists of Zambia (FAWEZA) have launched the Empowering Vulnerable Children with Education (EVE) Project in Namwala district.
The US$1,750,000 education project is aimed at increasing the retention of 7000 children (1000 most at risk and 6000 high risks) in quality Primary education in the next 3 years.
Speaking at the start-up workshop, the Ministry of Education representative, the Southern Provincial Education Officer (PEO), Ms. Nosiku Mwiya was delighted that the project is in line with Presidential directives.
The project is most welcome, and we commit ourselves to work with you. I am excited because the project will help fulfil two of the three Presidential directives that the Cabinet Office presented to us, which are (a) having desks in all schools by December 2023 and (b) having running water and ablution blocks in every public institution including schools, by December 2024,
Senior Education Standards Officer-In-Charge of Inclusive Special Education, Jesart Ngulube, added, "the project has come to the right district as it is facing challenges in the education sector."
"Namwala district has been facing challenges; in the 3rd Quarter of 2022, we recorded 439 cases of school drop-outs, and of the number, 207 were pregnant," Mr. Ngulube continued.
He further noted that the EVE project will help improve the district's retention rates, resulting in improved pupils and school performance.
I am excited about this new project, and we are very thankful that it has come to this district; with you (EVE project) on board, we can ensure that all children have the chance to access education for the betterment of their lives,
The Senior Education Standard Officer assured the implementing partners of the full support and participation of teachers in the areas of implementation.
Mr. Ngulube was speaking during the official opening of a two-day start-up workshop organized by WVZ and FAWEZA at Brichi Lodge in Namwala on 22nd November 2022.
The EVE Project will increase the retention of children in primary education by addressing critical risk factors by focusing on three outcomes below:
Increased parent and community support for the retention of high-risk and most at-risk boys and girls in school

Enhanced capacity of teachers and Stay-In-School Committees to support learners most at-risk and at high risk of dropout:

Improved support services and a safe and healthy school environment and learning for at-risk girls and boys.