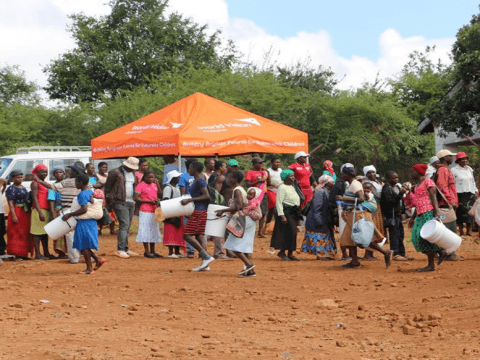 Delta Corporation Partners with World Vision Zimbabwe to Support Cyclone Idai affected Communities
Wednesday, June 26, 2019
Delta Corporation is partnering with World Vision Zimbabwe to support families affected by Cyclone Idai which hit the Eastern part of Zimbabwe on March 15, leaving a trail of destruction and hundreds of people dead. This cyclone is the most devastating natural disaster ever to occur in Zimbabwe, and the widespread destruction has stirred the hearts of many corporate leaders and individuals to rise in support of those affected by this rapid onset emergency.
Delta Corporation Limited is an integrated beverage company with a diverse portfolio of local and international brands of beverages operating in Zimbabwe. Commenting on the partnership with World Vision, Patricia Murambinda, Delta Corporate Affairs Executive said: "Delta Corporation aspires for a better world by contributing to making a difference in the communities that we operate in. We believe in a brighter, better, thriving and growing society."
As part of the 30-day Response Strategy, World Vision is partnering with Delta Corporation to provide support for households in Chipinge and Chimanimani, two of the most affected areas. Delta's generous donation of US$ 130,000 has helped to provide these communities with access to water, hygiene and sanitation support. Interventions in those critical first 30 days included repairing of boreholes in schools and communities and disinfecting existing water points in communities and schools. World Vision has also prioritized the production and distribution of Information, Education Communication (IEC) materials and re-orientation of Village Health Workers on Participatory Health and Hygiene Education (PHHE), especially on point-of-use water treatment. This training focuses on enhancing community members' knowledge on health and hygiene issues and responds to local false beliefs regarding health and hygiene issues and technologies. As well as providing educational resources, this program promotes improved hygiene and health through the distribution of sanitary pads for adolescent girls, distribution of Non-Food Item kits for households (including water purifiers) and provision of aqua tablets.
With a sustained presence in Chimanimani since 2007, World Vision Zimbabwe is a leading development partner, transforming communities through long-term development initiatives in Water and Sanitation, Livelihoods, Health and Nutrition, Education, as well as Child Protection. In Chimanimani, World Vision has funds committed for asset-based community development up to 2032, guaranteeing the sustainability of all investments. Interventions are spread over 11 out of the 24 Wards in the District, reaching out to all of the most vulnerable areas in the District. In response to Cyclone Idai, World Vision recently launched its early recovery programming at a budget of US$ 10 million to support the affected communities in Chipinge, Chimanimani and Buhera. To date, World Vision has raised US$ 6.7 million in financial and gift-in-kind resources towards this effort.
A total of 270 000 people were affected by the cyclone, with at least 299 confirmed deaths. Hundreds were injured, and at least 329 people remain unaccounted for, making it the worst sudden-onset natural disaster ever experienced in Zimbabwe. World Vision Zimbabwe, in partnership with Delta Corporation, will continue to support the recovery and long term development of communities affected by this disaster.