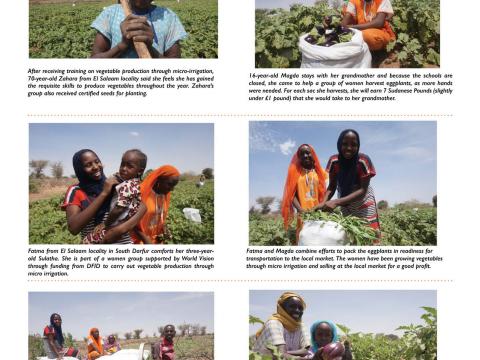 Journey toward realising Sustainable Development Goal #2: Story by our field staff in South Darfur
Wednesday, October 4, 2017
According to the United Nations, achieving Sustainable Development Goal #2 (End hunger, achieve food security and improved nutrition and promote sustainable agriculture) will require continued and focused efforts, especially in Asia and Africa. More investments in agriculture, including government spending and aid, are needed to increase capacity for agricultural productivity.
In the South Darfur region of Sudan, World Vision is partnering with communities, partners and donors in ensuring the realisation of this goal.
Thanks to the support of the British People through UK's Department for International Development (DFID) between 2014 and 2017 World Vision worked with 330 smallholder farmers training them on micro-irrigation activities to reduce dependency on rain-fed agriculture and heavy reliance on only traditional crops like Sorghum.