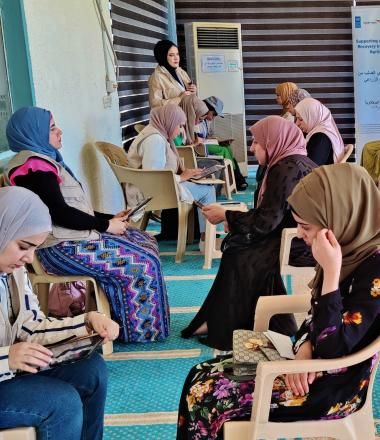 Supporting a Resilient Economic Recovery by Strengthening the Agriculture Sector in Saqlawia District
Funded by

Key figures
female and male farmers participating
Goals and objectives
The "Supporting a Resilient Economic Recovery by strengthening the Agriculture Sector in Saqlawia District" funded by UNDP aims to improve life for vulnerable households with a focus on women and youth empowerment as part of the economic recovery. In addition, the project will promote inclusive and sustainable economic growth by ensuring that farmers in Saqlawia are able to raise a decent income from farming activities.
The interventions will mainstream conflict-sensitive approaches to all programming to address the underlying challenges of exclusion, marginalisation, and societal divisions and to addressing key drivers of conflict, particularly strengthening peace-dividends. A special focus is placed on encouraging women and youth entrepreneurs to initiate businesses based on the market's needs. 
Key actions 
1. Conduct a rapid market screening for the main agricultural value chains and prioritising one or two value chains.  
2. Conduct 40 days agricultural training composed of theoretical and practical sessions focusing on soil preparation, plantation, and fertilization, pest management, post-harvesting practices and irrigation. 
3. Distribute in-kind agricultural inputs using modern and advanced technologies such as drip irrigation systems, vegetable seed, water storage tanks, solar driers, organic fertilizer for targeted participants to start their agricultural businesses and enhance their livelihoods.  
Project duration  
June to November 2023  
Project locations  
Saqlawia Sub-District, Anbar