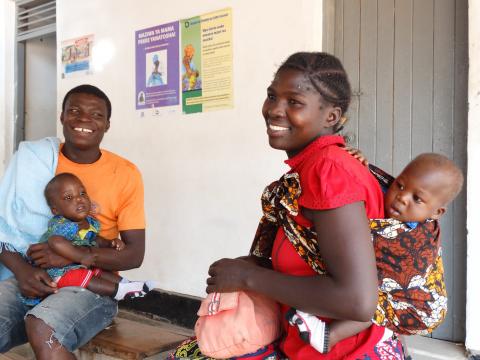 Breastfeeding Week 2018: Challenging cultural norms to foster exclusive breastfeeding
Friday, August 10, 2018
Story by Agness John - Communication Officer, ENRICH Project 
Exclusive breastfeeding has never been a way of life to many women in Tanzania. According to 2015 Tanzania Demographic Health Survey with only 59% of children are exclusively breastfed in their first six month of life. Women therefore struggle to keep it for the health betterment of their children.
The case of struggling to exclusively breastfeed a child is not different to Bertha Daniel (24), a wife to Ramadhani William (28) and a mother of four Sylivester (7), Rachel (5) and their twins Kurwa and Dotto (9 months).
She is among the mothers in Solwa village who are facing societal taboos and cultural believes, that children feel thirsty and that mother's milk might not be enough for the children and so they have to complement breast milk before the age of six months.
"Being in a community that believes colostrum (a first form of milk produced immediately following delivery of the newborn) should not be fed to a child as it is considered dirty milk. Here people believe that  breastfeeding a child exclusively for six months makes them lazy, feel thirsty.," Says Bertha Daniel. "Going home from clinic where I was taught proper breastfeeding, then meet parents with old mindset who insisted me to adhere to traditional breastfeeding made it for me hard to adhere to proper breastfeeding especially for my first two children."
From Bertha's experience, it shows that behind many mothers that do not properly breastfeed there is a lot of influence from grandmothers who normally advise them on child feeding traditions. This is due to poor knowledge among these women who are normally custodians of such traditions and customs. Presence of Community Health Workers who do not have knowledge on Maternal Newborn and Child Health and Nutrition has led to this problem.
Through World Vision's ENRICH project in Singida and Shinyanga regions, in collaboration with the government of Tanzania at different levels, some community members are identified and trained to become Community Health Workers. These become champions of proper nutrition for mothers and children in their communities. In 2017, through the project more than 190 Community Health Workers were trained on maternal new born and child health and nutrition.
"The training has enabling me to conduct household counseling effectively and in a timely manner. Capacity building on action planning and census has made it easier to reach many families," explains Yohana Masanja, Solwa village, A Community Health Worker "Educating mothers and family members in on breastfeeding makes the community more engaged in breastfeeding and the health of the mother and child."
Following WVT intervention through ERICH Project, male involvement has significantly improved with many fathers participating in child caring including accompanying their partners to clinic, assisting with home chores and provision of nutrient rich food.  
"I came to learn that breastfeeding is essential to my wife and my children. Engaging on it has been an amazing experience for me. My aspiration is for my children to grow up healthy- physically and mentally." Says Ramadhan, Bertha's husband
"World Vision through Community Health Workers empowers my community to realize the importance of breastfeeding and nutritious complimentary feeding. My twins enjoy breastfeeding to the fullest. As health as they are, I will continuously breastfeed them for six months while complementing breast milk with nutritious food." Bertha winds up as she smiles