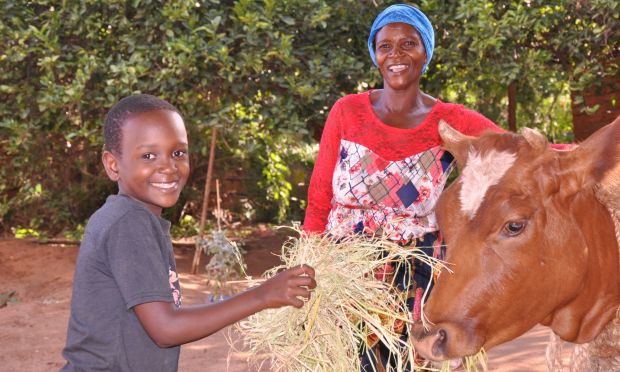 Recently, I visited Ndungu community, Kilimanjaro region, Northern Tanzania, approximately 240 kilometers from Arusha City. There I met a 42 year old Mwantumu. Her husband died five years ago and she was left with five children to take of with no reliable source of income.
"When World Vision came to my village, it was like a dream to me, I had lost hope because of my husband's death." Says Mwantumu. "He left us with nothing; we lived miserable and very poor." She remembers. "We did not have a house and my children used to eat once and barely twice a day." She adds
Mwantumu's life took a significant change since then. She says "I joined a savings group called with 30 members and attended several training about farming and entrepreneurship. Through training I gained agricultural skills." Adds Mwantumu
Mwantumu's saving groups was joined to a local rice cooperative union which enables farmers to provide storage facilities for famers to store their rice bags together and sell collectively in a good price- managed to prevent middlemen who used to smuggle from farmers.
"We got the rice seeds through World Vision" Mwantumu says. "Before joining the cooperative union, I used to harvest only twelve bags in my one acre land. She says "after the cooperative union I harvest between 20-25 bags of rice" She adds
Today, Mwantumu sells one rice bag at seventy five thousand shillings (US$38) which before she sold at 35,000 shillings (US$18). She makes between US$ 1500-2000 per year though rice and maize growing on a rotational basis. Mwantumu has managed to build a three bedroom house. The family manages to put food on the table three times a day." She says "I have been able to use my earnings to move my kids from public schools to a better private school."
The family also received a cow and sheep from World Vision Tanzania from which she milks twelve liters of milk a day. She says "I sell ten liters at ten thousand shilling s (US$5) and use two liters with my family; I also use the cow dang to fertilize my farm."
With World Vision empowerment through skills and farm inputs in Ndungu community, families are improving incomes and food security.