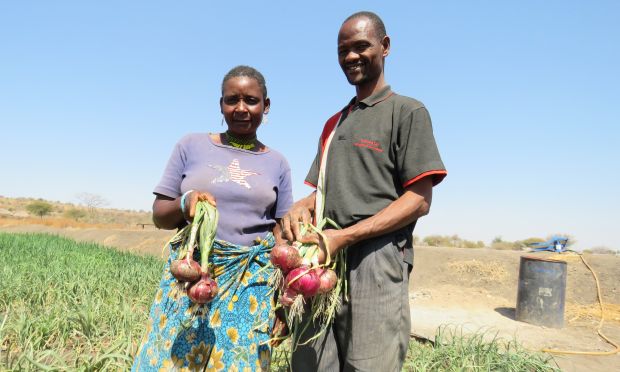 Global warming and weather changes caused Sanare to lose many things, including his prized cows. But he never lost his hope for a better future. Sanare Kivuyo, 49 is married to Anna, 39, and together they have seven children, including two sets of twins. It is a dry and dusty afternoon in Mbuyuni village in Babati, Northern Tanzania.
The air is hot and humid. One could feel the sun burning their skin mercilessly; the land is covered in yellow gold with all the plants turning yellow. This could only mean one thing; it is the dry season, the longest season that goes up to eight months. As we enter Sanare's home compound he quickly rushes to greet us, dusting his hands before a massive handshake.
Sanare leads the way to the greenhouse and stops to show us his garden of green vegetables and onions. On the very far end of the village we can see a big dam and we stop to ask him if that is where they fetch water. This question takes him back in years when he was still young and his mother used to walk for three hours to that dam that was shared with four villages. He speaks of how he grew up thinking it was okay to walk miles to get water for drinking, as well for their animals. There are four villages all gathered around one dam bringing along their animals to drink, which caused a lot of fights between villagers.
"In those years, the land was so dry, hunger was in every family and animal carcasses were scattered everywhere," says Sanare. "But we prayed and God heard our prayers." He used to grow maize and beans for food on his five-acre piece of land for his family, as well as sell to the market to get money to pay for his children's school fees and health services.
However due to drought, in most cases he could barely harvest five bags which were never enough to provide for his family, so he had to sell his animals to get income. He almost sold all the cows and goats which resulted in mocking from his Maasai community, since to them having a lot of cattle is prestigious. "I felt ashamed to join village meetings or gatherings, says Sanare
Sanare started learning from World Vision, which mobilized the community to form groups in which they could work together. He is also a member of savings group facilitated by Word Vision, and has already benefited from a VisionFund loan which he used to purchase fertilizers.
He was among the people that went to Yatta, Kenya in 2015 where he was trained about mindset transformation, good agriculture practices, income diversification, and rainwater harvesting. "When I heard about rain water harvesting through digging water pans, I said to myself, 'I must seize this opportunity,'" says Sanare.
In Yatta, farmers were taught to farm on just one acre of land, growing different crops on a small plot instead of scattering them around a large area which is hard to fertilize and water. One acre farming allows a farmer to harvest high value crops at different times of the year—farming smarter, not harder.
Sanare is now a trainer to his neighbors and the entire Mbuyuni community. They come to learn about farming as well as land use management. From his one acre piece of land, he is cultivating onions, tomatoes and green vegetables. These take only three months to harvest, and fetch high prices in the market, and are also a source of nutrition for his family.
While Sanare could hardly harvest 5 bags of maize from his one acre farm through subsistence farming, today Sanara can make up to US$4,000 in three months.
With the earnings he is able to pay school fees for his five children that are still at school and has gained security for his family. There is enough food for his cows during dry season through a hydroponic fodder production, this technique allows cereal grains to germinate within a short period of time, and one kilogram of cereal germinates and produces seven kilograms of fodder within seven days. He uses this to feed his calves, sick and elderly cows. He has dug two water pans that he uses for irrigation and household use.
"World Vision has made us fall in love with farming, just as we loved our cows," says Sanare. "Much as I lost a lot of things due to dry spell, I never lost my hope for the future."