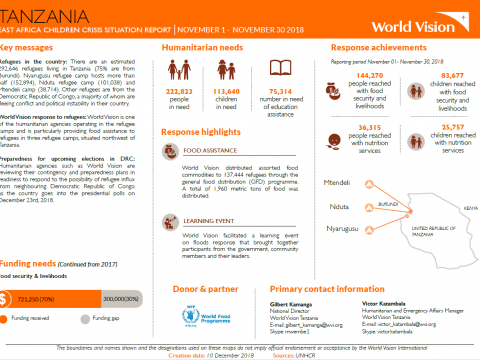 Tanzania - November 2018 Situation Report
Thursday, January 3, 2019
Refugees in the country: There are an estimated 292,646 refugees living in Tanzania (75% are from Burundi). Nyarugusu refugee camp hosts more than half (152,894), Nduta refugee camp (101,038) and Mtendeli camp (38,714). Other refugees are from the Democratic Republic of Congo, a majority of whom are fleeing conflict and political instability in their country.
World Vision response to refugees: World Vision is one of the humanitarian agencies operating in the refugee camps and is particularly providing food assistance to refugees in three refugee camps, situated northwest of Tanzania.
Preparedness for upcoming elections in DRC: Humanitarian agencies such as World Vision are reviewing their contingency and preparedness plans in readiness to respond to the possibility of refugee influx from neighbouring Democratic Republic of Congo as the country goes into the presidential polls on December 23rd, 2018.