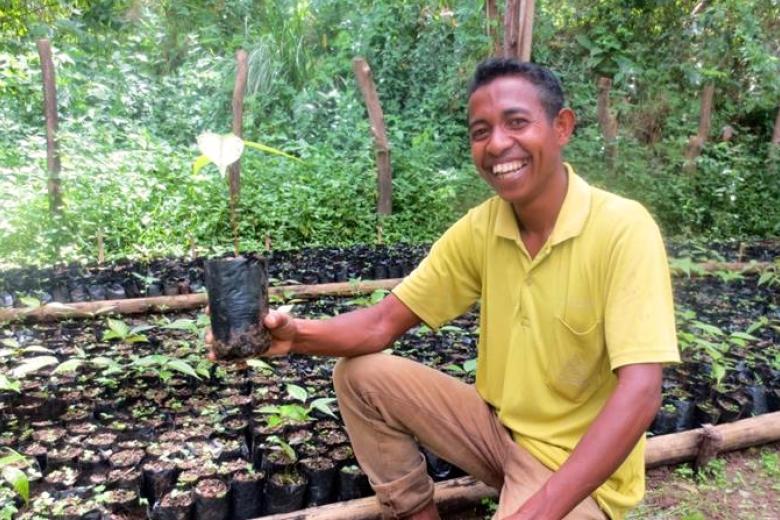 Abril prepares family for the future
Friday, May 15, 2015
Abril is from the village of Seloi Malere in the province of Aileu, Timor-Leste – set high in the hills, 3,000 feet above the coastal capital of Dili. The steep, winding, pot-hole ridden dirt road from Dili takes 2 hours if you're lucky enough to go by four wheel drive. For most Timorese, the journey is taken by scooter, minivan or on foot.
The money we save is used to provide enough food for our children and pay for their school fees.
Abril's time is largely spent farming and providing for his family. Like many Timorese, his looks belie his age, and at 30 he is married and supporting three children aged 10, 8 and 5. But Abril is much more than a farmer.
Since partnering with World Vision's Livelihood Improvement through Farmer Education (LIFE) project, he has become chairman of the local savings and loan group – a community run cooperative that provides a place where locals can deposit their savings and also access small loans to improve farming techniques and output.
"The money we save is used to provide enough food for our children and pay for their school fees," said Abril.
Together with his wife, Abril now produces an ongoing harvest of green bok choy and other vegetables generating a sustainable income of around US$100 per month. World Vision has also assisted communities to connect with supermarket operators in Dili to undertake a weekly produce pick up – providing critical access to markets.
Alongside other local farmers, Abril is preparing for the future too. A community garden nursery has been established to grow sandalwood and mahogany, which in 10 – 15 years will provide an ongoing stream of income from the sale of timber. A nearby garden has also been established with bamboo and local grasses to provide a place where children can learn cultivation and propagation skills.
Abril looks forward to seeing more groups established in surrounding villages and hopes that his community can be the model and a leader for others. When asked if this could become something he might also earn an income from, he replied, "No, I just want other villages to have the opportunity to improve things for their families like I have."
All 3 of Abril's children are now in school and his next project is to build a new house on the banks of the small rivulet that waters his farm.