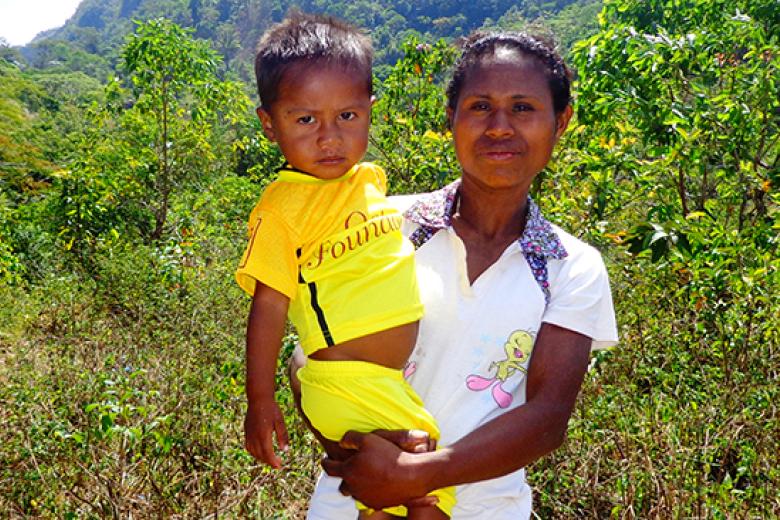 Bouncing back to good health
Tuesday, November 26, 2013
Ermelinda Moniz is relieved to see the health of her 27-month-old son Trifonio steadily improving, and is thankful to World Vision for helping her understand the importance of good nutrition.
Ermelinda lives with her husband Manuel Moniz and Trifonio in the district of Bobonaro about 42 kilometres from the town of Maliana.
Trifinio was classified as having 'severe malnutrition' when Ermelinda took him to a SISCa, a mobile health clinic supported by World Vision which visits the village once a month. He weighed only 7kg and his upper-mid arm circumference was just 11 centimetres.
His condition was the result of their village's remoteness and her lack of knowledge about how to prepare to good food, Ermelinda says.
"I was surprised and very concerned. With the support of World Vision staff I was able to rent a motorbike to accompany my husband and refer my son to the hospital in Maliana."
During two weeks in hospital, Trifonio was given medicine, milk, and plumpy'nut, a peanut-based paste used to treat severe malnutrition in children. He returned home weighing 11kg and his arm measuring 13 centimetres. Since then his parents have carefully followed his progress at the SISCa.
"I am happy to see my son's development," Ermelinda says. "Trifonio's nutrition from month to month is getting better, all because of the knowledge that I get from World Vision staff in the SISCa program."
Manuel says he is really thankful for the staff who have supported his family. With seeds from World Vision, he and Ermelinda have set up a kitchen garden at their home to grow mustard, pumpkin, onion and leafy vegetables to provide better food.
The new vegetable supply had an unexpected bonus when Ermelinda came third in a village cooking competition. Project coordinator João Moniz says that Ermelinda and Manuel are enthusiastically committed to improving their family's health.