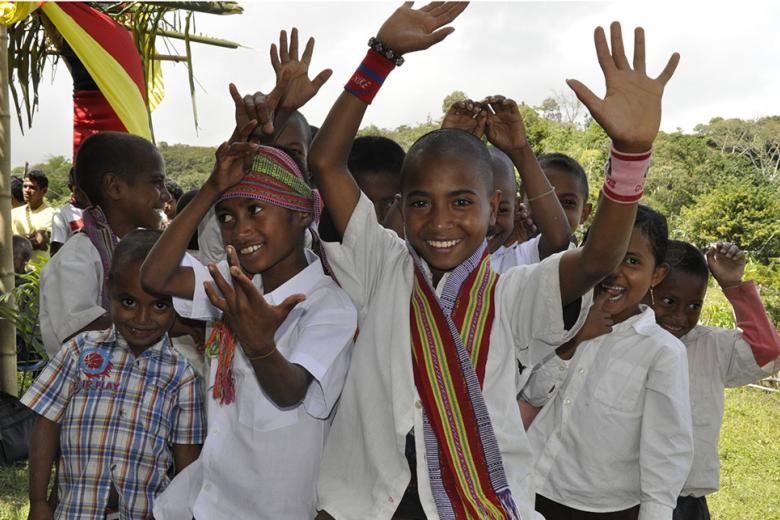 Ceremonial hand-over of new water system
Monday, July 15, 2013
Felix da Costa Pereira, head of one of three villages that have just taken control of a new water system high in the mountains of Timor-Leste, is proud that local people built it with their own hands.
"We're all happy we did it for ourselves," says Felix, head of Ossouaque village where eight of the 30 new water taps have been installed. Local people put in the tanks, pumps and machinery, connected the pipes, and lay the concrete pads for the joint Fatulia Water System that will benefit over 2000 people.
Construction began in 2009 with World Vision providing materials and expertise. Funding came from corporate sponsors Woodside, Osaka Gas and Conoco Phillips, and the AusAID rural water supply and sanitation program BESIK.
A musical welcome to the village of Ossouaque for the hand-over ceremony.

At a colourful hand-over ceremony in Ossouaque on 11 July, Felix and the other village heads signed a contract to formalize the fact that the villagers are now responsible for maintaining the new system.
Felix da Costa Pereira (centre) signs to confirm his village's commitment to maintaining the new water system.
Despite Timor-Leste's five-month rainy season, ensuring a reliable water supply in the steep hills has long been a problem. Lack of clean water is a major contributor to poor hygiene and high rates of illness, particularly diarrhea among children.
This project, however, needed more than just nuts and bolts. The three villages straddle the Timor-Leste districts of Baucau and Viqueque. The water itself, from deep wells and bores, is piped to communities far from its source, across village and district boundaries. Lengthy negotiations between all parties – the villages, the NGOs, government and the police – took place to ensure the communities cooperated and that all had a stake in the outcome.
At the hand-over ceremony, District Administrator Antonio Augusto Guterres cut a ribbon on a water tap to symbolically open the new system. He emphasized that the communities had worked hard to install the system, but now they had to ensure its ongoing maintenance so that clean water will flow for years to come.
District Administrator Antonio Augusto Guterres (centre) cuts the ribbon.
The tap is near the home of Juliana da Castro, a mother of four. She is delighted her children no longer have to trudge so far to collect water, and that they have a clean, reliable water supply for washing their hands and bathing.
Juliana da Castro (rear) and her sister Umbelina sample the freshly flowing water.