Devia, nine years old, lives in Baucau and studies at primary school. She is one of five children of Evangelino, 45 years old, and Jacinta, 31 years old. Her family used to walk two kilometres to collect clean water from a spring.
Jacinta said that previously, the distance between the water spring and her house was too far away, so they didn't have enough clean water, which resulted in the poor health and hygiene of her children.
"In the past, my parents took water from a spring for drinking and bathing. Sometimes I just washed my face to go to school," Devia said.
Devia and her family now enjoy a healthier lifestyle since World Vision built a public tap near their house, through the Water for Future project.
"Now, my family's lives have improved because we fetch water from five metres away instead of two kilometres. The clean water is very useful, including for cooking, bathing, washing kitchen utensils, going to the toilet and watering vegetables in the yard. My children bathe every day so their bodies are shiny, smooth and very healthy. I also no longer buy vegetables because I plant, harvest and feed them to my children to improve their nutrition. I feel that it has really helped my work as a housewife," Jacinta said.
"Now I can bathe every day, drink boiled water, and wash my hands before eating or after going to the toilet," Devia said.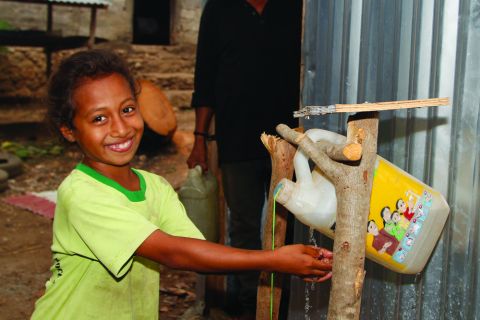 "My family and I are very pleased, we access clean water only five metres away … Our health has improved compared to the past. So, I don't mind paying US$1 for monthly clean water fees," Evangelino added.
To ensure sustainability after the project ends, World Vision established community water management committees that continue to manage the operation and maintenance of the water systems, by charging small monthly user fees.
The project also provided Evangelino with building materials to construct a new toilet at his home. "The sanitation program is very good for improving hygiene in my household," he said.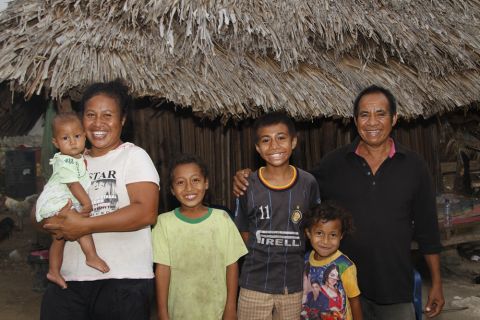 The Water for Future project ended in September 2018. A project evaluation found that 92 percent of the target population now have access to clean water, compared to 23 percent at the start of the project. Ninety percent of the target population now have access to an improved toilet, compared to 30 percent at the start of the project. The evaluation also found that diarrhoea in children under five reduced from 29 percent to 12 percent.
The project was supported by the New Zealand Aid Programme and reached 5,077 people in eight communities in Baucau, Timor-Leste.
---
Featured image: Nine-year-old Devia washes her hands with a tippy-tap at her home before meals and after going to the toilet. Photo: Jaime dos Reis/World Vision