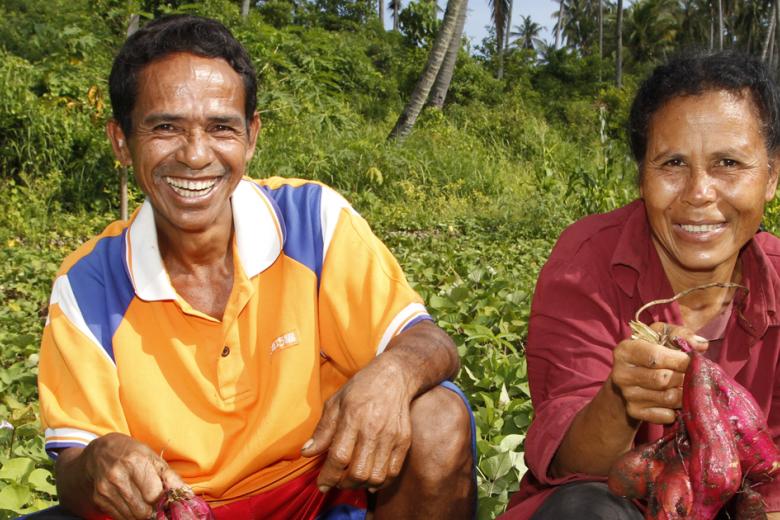 Francisca plants hope for her family
Tuesday, February 19, 2019
Francisca, aged 45, lives with her husband Fernando, aged 49, and their nine children and two grandchildren in Baucau Municipality.  "In the past we grew maize, pumpkins and tomatoes in small volumes in a relative's garden, which was far from home, and it was difficult for us to bring home for our family to eat," Francisca said. "We were not eating highly nutritious foods, such as meat, eggs and beans, as my husband's income was very low … and we just ate whatever my husband brought home." "I didn't understand what nutritious foods are and was not trained on how to produce and prepare good and nutritious food for my family to eat," she added. However things changed after Francisca and Fernando joined a farmers group, where they learned about agricultural techniques to grow nutritious local foods. The group is supported by the TOMAK (To'os ba Moris Di'ak) Farming for Prosperity project, implemented by World Vision. Now they grow demonstration plots of nutritious crops, divided into soybean and orange sweet potato. Soybean and orange sweet potato are two of the highly nutritious foods that the project promotes to help families ensure good nutrition for their children.  World Vision supported their farmers group to plant five kilograms of soybean seeds and then harvest around 150 kilograms of soybean. The group also planted and shared the yield of orange sweet potato among group members, so they can cook and serve to family members. Some orange sweet potato vines were replanted in the group's plot and some were shared with each member to replicate in their own gardens.
Francisca now plants many kinds of nutritious foods, including orange sweet potato, in her family's garden. Photo: Jaime dos Reis/World Vision
"My husband and I have worked together and we have harvested orange sweet potato once. Some of the orange sweet potato yield was shared for consumption, and some was sold in Baucau market," said Francisca.
They also grew other vegetables, such as tomatoes, chili and pumpkin."By applying the techniques I learned from World Vision, I have already achieved good results from my hard work through the production and marketing of orange sweet potato. I earned an income of about US$125 from the orange sweet potatoes, $481 from the orange sweet potato vine cuttings, and also kept enough quantity for my family to eat," said Francisca.
Francisca said she cooked sedok (mixture food) from nutritious orange sweet potato, moringa and red kidney beans for her children and grandchildren to eat.
"Now my mother can prepare a tasty meal of porridge with moringa, beans, and sometimes eggs for our breakfast before we go to school," said her 17-year-old son, Alsino. 
"I am pleased to see my children and grandchildren eating more and more of the crops that we produced, and they are happy to go to school as they have sufficient basic needs," said Francisca.

Fernando and Francisca are pleased to see their family eating more nutritious foods. Photo: Jaime dos Reis/World Vision
World Vision is an implementing partner of the TOMAK project, supported by the Australian Government.