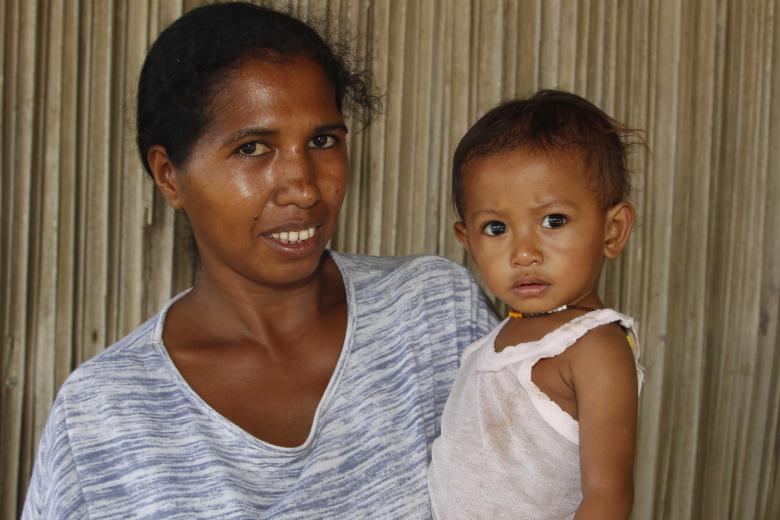 Mariana fights to improve her daughter's health
Wednesday, February 27, 2019
When Azelia was born, she was a very healthy baby. But in September 2018, when her mother Mariana took nine-month-old Azelia to a community health clinic in Covalima Municipality, she weighed just five kilograms. That's three kilograms less than she should have weighed at her age.

"My daughter contracted diarrhoea two weeks ago and her weight is constantly decreasing. When [community health volunteer] Alarico and World Vision staff visited us, they measured her arm and said she is severely malnourished," Mariana said at the time.
Six months ago, Azelia was severely malnourished. Photo: Jaime dos Reis/World Vision
"World Vision staff and I identified Azelia with a Mid-Upper Arm Circumference of 10.8cm. This indicated that she has serious malnutrition. So we directly contacted the Nutrition Coordinator at the Zumalai Health Centre for the immediate distribution of additional foods such as Plumpy'Nut," Alarico said.
Plumpy'Nut is a peanut-based paste that is used to treat acute malnutrition. It helps save the lives of malnourished children by supporting rapid weight gain.

Alarico is one of the 86 community health volunteers supported by World Vision's Better Food Better Health project across four municipalities in Timor-Leste. Through the project, Alarico received training on how to counsel and share key health messages with parents to help improve the health and nutrition of their children. This included how to identify malnourished children like Azelia.


Alarico (back) and World Vision's Calisto (right) measured Azelia's arm and identified her as malnourished. Photo: Jaime dos Reis/World Vision
"I visit each household once a week for direct observation of each family's health condition, including identifying children who have malnutrition," said Alarico.

He also shows members of local parents clubs how to cook meals for their children using locally available, highly nutritious superfoods, such as moringa, eggs, mung beans, soybeans, red kidney beans and orange sweet potato.

"When the mothers practise cooking superfoods, I see that many children like to eat them," said Alarico.
Alarico brings nutritious moringa leaves to Azelia during his weekly visits. Photo: Jaime dos Reis/World Vision
Mariana is one member of Alarico's parents club. "Alarico shared information about how to cook superfoods … I will cook moringa and eggs to feed Azelia. I am very grateful to the community health volunteer and World Vision for this wonderful program," Mariana said.

Mariana said that according to traditional beliefs, pregnant mothers are forbidden to eat boiled eggs because they will have difficulties during childbirth.

"My understanding changed when World Vision and Alarico introduced me to superfoods, and I found out that eggs contain high nutrition. So, I would advise pregnant women to consume eggs because they contain high nutritional value for them and their babies," she said.
Azelia's health improves
Six months later, Azelia has gained weight and her health has continued to improve. "I give superfoods to Azelia every day – sometimes up to four times a day – and eggs twice a week.
I see Azelia's condition is now improving compared to before. I am very happy that she is eager again to play with her friends," Mariana said.


Azelia eats superfoods including moringa and eggs. Photo: Jaime dos Reis/World Vision
Alarico continues to monitor Azelia every week, and brings her eggs and moringa when he visits.

"Azelia's health continues to improve because I give advice to her parents to continuously provide her with porridge mixed with moringa leaves and eggs," Alarico said.

World Vision's Better Food Better Health project is supported by the Australian Government through the Australian NGO Cooperation Program (ANCP).