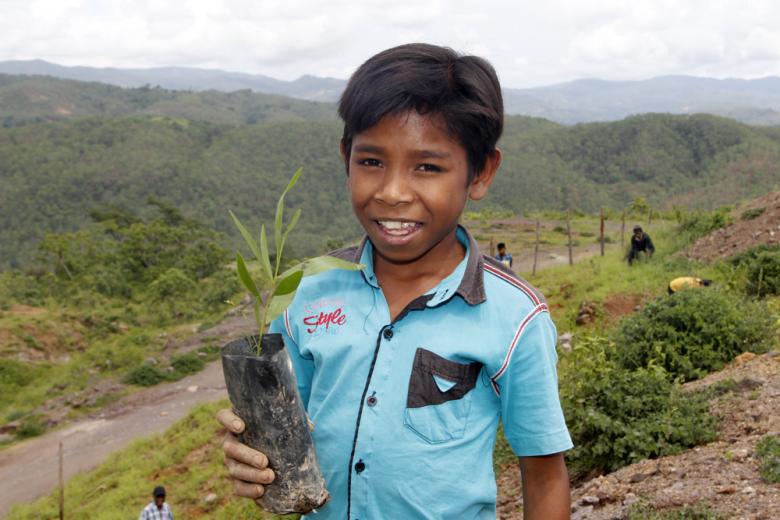 Planting trees to re-green Timor-Leste
Tuesday, January 15, 2019
World Vision and the Ministry of Agriculture and Fisheries planted 900 trees with schools and communities in Aileu and Bobonaro Municipalities to support the National Tree Planting Program – an initiative of the President of the Republic, Dr Fransisco Guterres 'Lú-Olo' that aims to re-green Timor-Leste.
The National Day of Reforestation aimed to raise awareness about forestry, environmental conservation for humans and animals, and ensuring economic development for Timor-Leste through forestation.
To celebrate the day, World Vision joined the Director of Agriculture, Municipality Administrator, UNDP, village leaders, teachers, youth and community members to plant 700 trees at an elementary school in Bandudato village in Aileu.
Aileu Municipality Administrator, João Tilman do Rego said, "Local authorities always cooperate with World Vision to plant trees. We guarantee that they will grow because we have planted in the rainy season, and the community, especially the teachers and students in this elementary school, are the owners. So these trees will have a positive impact on them in the future."
The school's principal, Rofino dos Santos said the trees would benefit 55 elementary school students by providing shade and protection from wind, and preventing erosion.
Rofino plants a tree near his school yard to celebrate National Day of Reforestation. Photo: Jaime dos Reis/World Vision
"The school is surrounded by barbed wire fences, so I guarantee that the trees will grow because we will always be watching. I hope that in a short period our school can guarantee the prevention of erosion, wind and climate change," Rofino said.
 "I am happy that my teachers, community, World Vision, and local authority planted trees around my school," said 10-year-old Recardo. World Vision's projects work with farmers and communities to promote conservation, natural resource management and reforestation, to protect the environment and create long-term income opportunities to ensure the wellbeing of Timorese children and families.   World Vision and the Ministry of Agriculture planted 200 seedlings in Bobonaro Municipality to celebrate National Day of Reforestation. Photo: Zito A. Soares Xavier/World Vision We train farmers in a low-cost land restoration technique called Farmer Managed Natural Regeneration (FMNR), which involves the management and pruning of the regrowth of trees and shrubs. This simple, yet effective method is benefiting farming families in Aileu, Bobonaro, Baucau and Covalima Municipalities. To date, 130 hectares of land in Timor-Leste has been regenerated through FMNR.