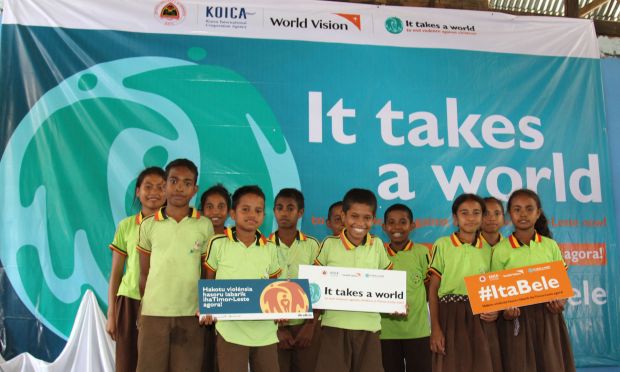 World Vision will launch its four-year campaign 'It takes a world to end violence against children in Timor-Leste now!' nationally on Monday 26 November at the Dili Convention Centre. The launch will be part of the national event to mark Universal Children's Day, organised by the National Commission for the Rights of Children and UNICEF.
The Dili Convention Centre will be a hive of activity on the day from 3:30pm to 6:30pm with information booths, activities and performances along with a children's march from the Government Palace to the convention centre. There will be giveaways at the event and participants will have the opportunity to pledge their commitment to ending violence against children.
World Vision's campaign will focus on the issue of physical and sexual violence against children in the home. This issue is widespread in Timor-Leste with seven out of ten children affected. Acts of sexual, physical and emotional violence threaten children's survival, health, education and future. Violence robs children of their rights, dignity and God-given potential.
World Vision's Country Director Fabiano Franz shared, "Children are the future of Timor-Leste, they deserve to be cared for and nurtured to reach their full potential. Ending violence against children is a pressing issue that will take the commitment of individuals, parents, government and local and international organisations to achieve. We must act now."
Globally, around a billion children experience violence every year. Violence against children is happening in every country, city and community.
On November 14, World Vision launched the campaign in Baucau municipality with around 80 children participating along with representatives from the education sector, faith community, government, development sector and police. At the event, children shared messages on the importance of ending violence against children. Twelve-year-old Zelia's message was clear, "We want to live peacefully in every household, stop violence against us, parents must love their children. I want to encourage every single parent not to smack their children."
The General Director for Children's Rights, Teresa Maria da Costa Freitas, who was also in attendance at the Baucau event said, "The National Commission for the Rights of Children will support this campaign to end violence against children in Timor-Leste. We are all responsible to work towards stopping violence."
World Vision will collaborate with partners on this initiative to contribute meaningfully to the United Nations Sustainable Development Goals, specifically 16.2 'end abuse, exploitation, trafficking and all forms of violence and torture against children'.
For media enquiries contact:
Jaime dos Reis, Senior Communications and Advocacy Coordinator
Mobile: +670 7738-0585 Email: jaime_dosreis@wvi.org