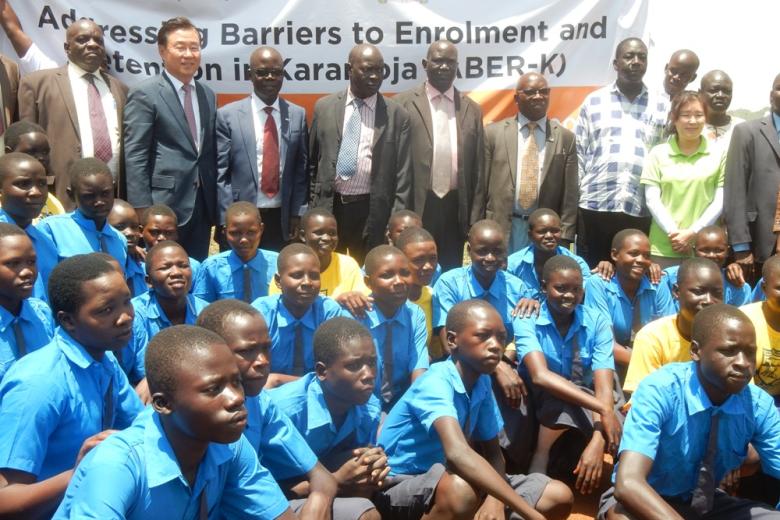 Shs18 billion Education Project Launched in Karamoja
Wednesday, March 22, 2017
By Agnes Kabaikya
World Vision launches three-year Education project in Karamoja, targeting 89 government-aided Primary schools. The USD$5.37M project, code-named ''Addressing Barriers to Enrolment and Retention to Education in Karamoja'' (ABER-K) will reach out to over 40,000 children in the three districts of Abim, Kotido and Kaabong.
The project is jointly funded by 'Educate A Child' (Qatar Foundation), 'Korea International Cooperation Agency' (KOICA) and 'World Vision Korea'.
Targeting children between 6-14 years, the project will work towards improving school learning environments and addresing negative social/cutural barriers to enrolment and retention in school in Karamoja. The 3-year project will reach out to pupils who missed school, those that never enrolled, those who enrolled and dropped out plus those who enrolled but do not attend.
While commissioning the project, the World Vision Uganda National Director Mr. Gilbert Kamanga noted that one of the key barriers to education in the area is early marriage and thus urged leaders in the area to address the vice if the project is to succeed.
Currently the retention rate of male pupils in Karamoja stands at 40 percent compared to 96 percent at the national level.
The project will by 2019 have constructed 84 classroom blocks, 42 latrines, 21 water tanks, 50 blocks of dressing rooms for girls, 3 blocks of boarding sections for girls plus 10 bore halls.