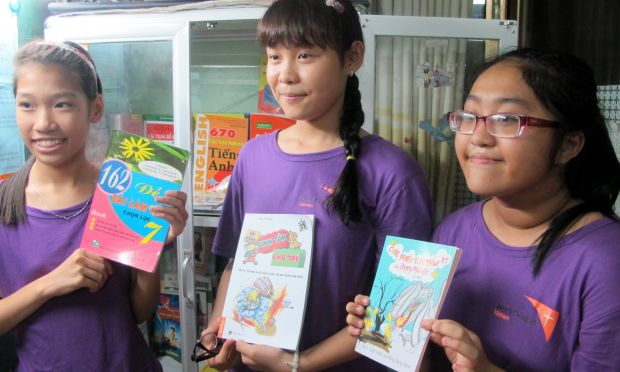 While her peers grow up in their parents' love, Hai Anh has been nurtured and protected by her grandparents. Let 16 year old Nguyen Thi Hai Anh from Hai Phong tell you about her growing up.
Hai Phong, December 12, 2016
Time flies, so fast, almost another year has passed!
So strange is that in the middle of December, Hai Phong seems to be having an "un-cold winter".
It is quite hot outside today when I sit down at my window desk, looking up at the blue sky and recall myself 4 years ago. Amid the heat of the day, a few breezes blow at the window, flying me further into my good old memories.
Hmm… 4 years ago, how was I? Of course, a girl named Hai Anh, as pretty and lovable as any other kid, raised and taught by our beloved ones in the family.
The only difference is they grow up in their parents' love, while I have been covered in my grandparents' care and protection since I was little.
One might think I must have been insecure and timid about that, but no! I'm not that girl, I am stronger and wiser than my age.
I am joyful and hopeful. I want to bring laughter to people so they can see how beautiful this life is.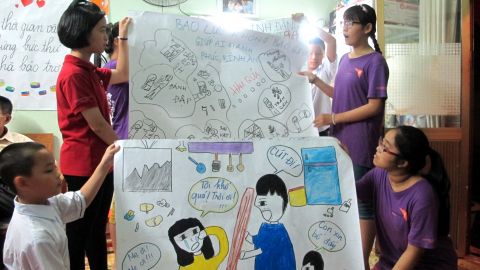 And God is always so kind to good girls, like me, when the year 2012 gave me the greatest opportunity and the sweetest memory of my childhood! I was then 12 years old when I officially joined the club meetings of World Vision Vietnam as a sponsored child.
I was still shy and quiet in the first days. But gradually, I became amazingly more and more enthusiastic and delightful. I was so happy to meet new friends, learn life skills and develop myself day by day.
They say happiness is to be shared, so I have no hesitance to tell my family and friends about how wonderful, meaningful and useful World Vision is … Everyone gets excited only by listening.
Then, when any asks me "what I gain and lose being in the program", without thinking, I can say instantly that I gain a lot more than losing.
Joining World Vision, I find this life brighter everyday, I get educated, experienced, trained and included in constructive activities.
I was deeply impressed seeing such a confident, audacious, active, creative and energetic teenager. At that age, and in a more favorable conditions, I did not recall myself that good.

Pham Thu Trang, Communications Officer, World Vision Vietnam
Moreover, I have chance to exchange with my peers in beautiful Korea. They are all nice and friendly people, just like people in my hometown Hai Phong.
The program also aims to improve children well-being through small and community projects. Each project contains our childish dreams, and it's great to see them in reality because all of them are pragmatic in this abundant life.
I also receive letters from my Korean sponsors – a class of schoolgirls. I feel superb reading their letters, overjoyed as if we have known each other since forever.
I have replied with the same heartiness in my letters to them. On Lunar New Year and Christmas, I make small greeting cards to send them. I believe they are thrilled by the letters just as I am.
Through such activities, I have witnessed myself grow up significantly, not anymore the old naïve one.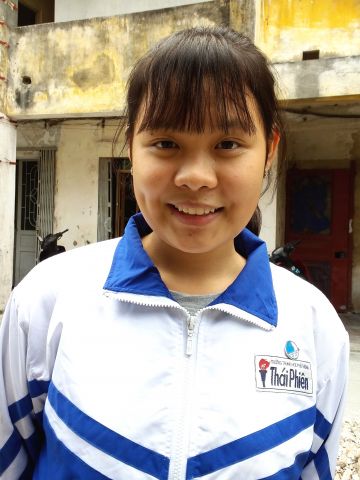 Looking back at nearly 5 years I have spent with World Vision, from gullible and foolish to thoughtful and independent, so many valuable lessons from experience, to be more passionate and open-hearted.
I used to be concealing and deep in thought, hiding my sadness under smile and optimism, telling no one. I'm different now, know how to relieve sorrow, always sharing and willing to help younger kids.
They have their own disadvantages, and I so want to do something to support, even little things, to make them happy and blithe. World Vision activities are the solid foundation motivating me to continue voluntary work.
Back to present, I just got enrolled in a public high school which I craved since forever. Apart from its good education, my school is also outstanding in charity work.
I am a member of volunteer team now. I deliver free porridge in hospital twice a week and visit kids with HIV in children's home twice a month.
I'm 16 now, best time of one's life, filled with excitement and aspirations and dreams.
My dream is simple, I want to grow up to be a value to the society, a good volunteer to give small contributions in charity work.
I keep this great saying in mind always: "To live is to give, not to take only for one's self"!
And to touch that beautiful and meaningful dream, I tell myself to stay hopeful, keep faith and never back down from the storms in life.