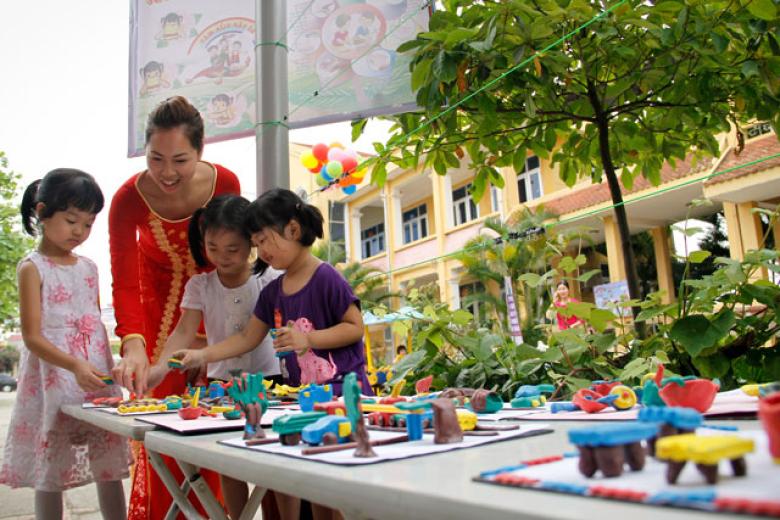 Campaign Calls for Early Care and Education for Children
Wednesday, October 31, 2012
"Our villagers used to feed their babies with porridge or rice only," Sinh A Sinh says, a 23-year-old father from the H'mong ethnic minority. "Since we participated in nutrition clubs and other childcare activities, we have learnt that we should cook their meals with grease, vegetables and eggs."
"With proper care, our children are now healthy and are not sickly. We feel secure about them when working. We learnt that children should go to school as it is good for their future," Sinh adds, from World Vision's project area in Tua Chua District in northern Dien Bien province.
Sinh, whose daughter is three years old, shares his story with other caregivers, teachers, government and local leaders at the national event held in northern Vinh Phuc province. It was a key activity for Vietnam joining millions from other countries to call for care and educate children at the beginning of their life.
The event was organised by Vietnam's Ministry of Education and Training (MoET), along with local and international non-government organisations (NGOs) including World Vision.
Approximately four million children under five go to school in Vietnam as of April 2012, an increase of 160,000 from two years ago, according the MoET. However, report said the country lacks nearly 23,400 kindergarten classrooms and 22,800 teachers. Up to 15 percent of communities nationwide don't have separate kindergarten rooms.
The MoET's leaders, local officials, teachers, community members and representatives from local and international (NGOs) discussed their responsibilities to achieve the goal. Pre-school children drew pictures, made collages and statues to illustrate their ideal early childhood and education environment.
In World Vision's project areas, more than 4,000 children, parents, teachers and local leaders also participated last April 22 to 28. People from 14 districts attended events where they learned and participated in contests, role-plays and round-table discussions.
"Our villagers were so excited because it's the first time our community has joined the education week," says Le Thi Bich Ngoc, a school principal in Thanh Hoa province. "Our community is one of the poorest in Thuong Xuan district. Local people have limited knowledge and the number of children under three going to kindergarten is low." She adds, "Though the campaign was small, it will make a lot of impact in our community."
World Vision's Global Week of Action for Child Health Now will be held from 13 to 20 November 2012. World Vision needs every leader to not only participate, but to influence staff to join the global mobilisation to call on world leaders to meet the commitments they have made to reduce child mortality and improve maternal health (Millennium Development Goals 4 and 5). Please say 'Count Me In – I want Children to Survive 5!' For more details on how to be involved in this campaign, please visit http://www.childhealthnow.org/.