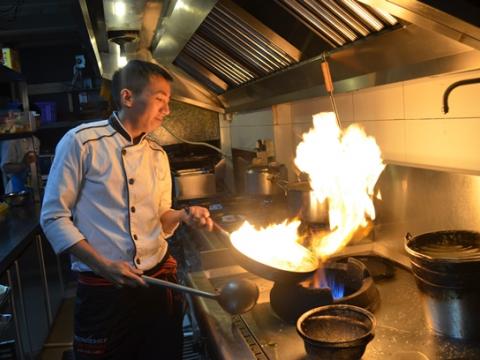 Comfort food
Thursday, July 2, 2015
While other boys swam or played games during the summer holiday, Vo Duy Nam trudged 30-40 km every day under the scorching sun to peddle chopsticks and toothpicks in Da Nang and Nha Trang, two of Vietnam's tourism hotspots.

"I earned 200-300,000 dong [USD $9.20-13.75] a day, but had to give it all to my boss," he says. "While walking around, I ate whatever passersby gave me: often instant noodles or rice."

"My boss sometimes told me to pretend to be blind or deaf to sell more toothpicks," he recalls. "But when the three-month period of work finished, he only gave me 700,000 dong [USD $32]."

After his parents divorced in 2002, such paltry income wasn't enough to support his mother and two younger brothers, so Nam dropped out of school and left his northern province of Thanh Hoa to shine shoes in the capital, Hanoi.

 
One of Nam's signature dishes: fried duck and mango salad.

Today, Nam sweats in the kitchen of a well-known rooftop restaurant in downtown Hanoi as he prepares his signature dishes: fried duck and mango salad, shrimp-packed spring rolls, and fresh sea bass drizzled with grape sauce.

The 27-year-old is the popular restaurant's head chef, a position he could never have dreamed of before joining Step Ahead.

To give street kids a hopeful future, the World Vision-funded project run by the Blue Dragon Children's Foundation, a non-profit organisation, provides shelter, meals and training in English and IT.

Step Ahead also offers routes into secure employment. "I chose to study cookery," says Nam. "I wanted to learn how to make delicious food to please others."


Nam is now the head chef of a well-known rooftop restaurant in downtown Hanoi and of another in a well-heeled suburb.

With a passion for cooking, his skills improved swiftly before an appearance on a TV talent show, Iron Chef Vietnam, opened the door to his future career, with Nam now holding two jobs: the one downtown and another in a well-heeled suburb.

"I've worked hard everyday for three reasons," he says. "First, for my family, who used to be very poor. Second, I didn't want to disappoint the people who've helped me. And third, for a better life for myself."

The chef and his wife have just had a baby boy named Phuc An. "His names mean happiness and peace," the proud father explains. "Peace is essential for my family and me. My parents split up when I was a child, so I don't want my son to experience that."

Remembering his former life, Nam supports street children by preparing meals for them and teaching them culinary skills through Step Ahead.

"I hope other street kids will find good jobs like me," he says. "I'm not ashamed of my past and I want to write a book about my life in the future."


Nam and his team in the popular restaurant in the downtown.
Photos: Tran My Hang