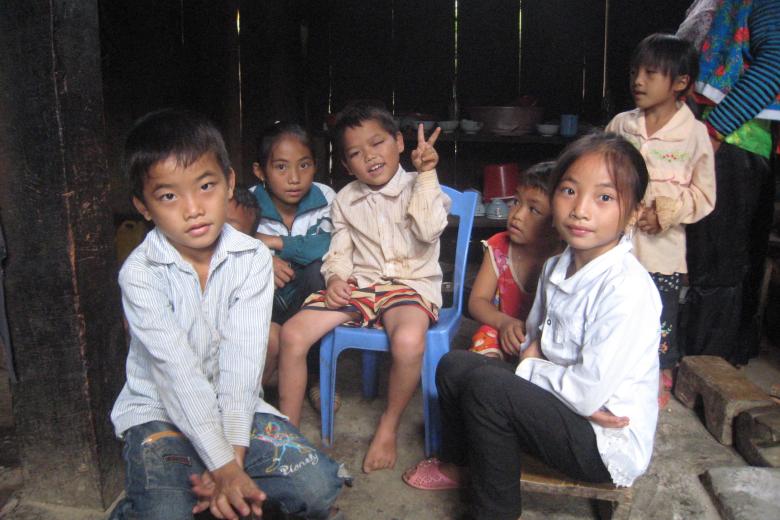 Coming Back to Life
Tuesday, September 24, 2013
Written by Do Ngoc Hoan – Development Facilitator, Tuan Giao ADP
 
"I'm still alive!" said eight-year-old Thang thankfully. "But I hope my arms and legs will get better soon, so I can help my parents with chores and to take our buffalo grazing. I love my mum and dad very much."

Many children are reluctant to help their parents, but Thang has longed to do it ever since he was badly hurt in an accident that nearly took him from his parents.

Thang was born to a poor family belonging to an ethnic minority in Tuan Giao district, a mountainous area of Dien Bien province. He is a well-behaved son at home and an excellent student in school, but in mid-March this year, Thang's life changed dramatically.

Thang was climbing a tree with his friends to pick some fruit when he fell to the ground and suffered serious injuries, including a tree branch piercing his left eye.

His family were forced to borrow money for treatment in the main hospital in Dien Bien province, but after a week there, his health had not improved. Worryingly, the doctors discovered that the tip of the branch had entered his brain and they advised his parents to take him to Hanoi because they did not have the equipment for the required surgery.

However, Thang's parents had no more money for further treatment, so they took him home and asked a shaman to offer sacrifices for their son. "Thang's health was getting worse and we didn't know what to do," recalled his father, Mr Lau A De. "We were just crying and waiting for the day that he'd die."

Staff from World Vision's Tuan Giao Area Development Programme became aware of Thang's critical condition, so, in cooperation with local authorities, persuaded his parents to take him to Viet Duc Hospital in Hanoi, where doctors removed a two-centimetre piece of branch from the left side of his brain.

Thang's father is illiterate, but that did not stop him taking good care of his son. He washed and massaged his son carefully every day and provided the diet the doctors had advised. After one week in the hospital, Thang had recovered sufficiently to be transferred back to Dien Bien Hospital, from which he was recently discharged so that he could return home.

"We're so grateful that our son's still alive and I want him to have more treatment so he can be as happy as he was yesterday," Mr De said.

Thang's right leg is still weak, so he cannot use it as before. If he falls down, he finds it difficult to stand up again and he also dribbles when he speaks. In addition, he often suffers from headaches and pain in his spine, breastbone, right leg and arms. Fortunately though, the doctors said his brain is recovering, so his health will improve.

"World Vision will continue to monitor Thang's condition and provide him with appropriate support to help him recover as much as possible," confirmed Mr Nguyen Van Pho, Manager of Tuan Giao ADP. "We'll remind his family to take him to local doctors for regular checkups," he continued, "and we'll help them to raise livestock so they can earn more money."

At present, Tuan Giao ADP is working with local authorities to raise awareness on how to prevent children from being injured in accidents. This summer, the ADP provided such training courses to 60 local kindergarten and primary school teachers.