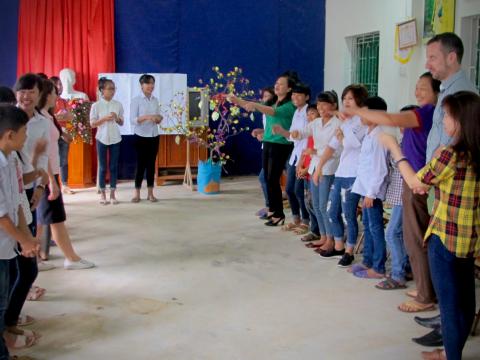 A dark past, a bright future
Friday, January 22, 2016
Often looking down to hide a deep scar whipped into her face in China, Nguyen Thi Lieu* told her story to Mr Layton Pike, the Australian Embassy's Deputy Head of Mission to Vietnam. The day was the first time the 27-year-old, who returned to her parents' home in Yen Bai province in May 2015, hadn't cried when describing her past.

Six years ago, a Vietnamese man promised Lieu a good job in the city, but instead sold her to the owners of a bar in China. For two years, she worked there, earning a pathetic wage and suffering physical abuse until a Chinese man rescued her. She stayed with him. The couple were never lawfully married, but settled down and they had a child together. When their son was five-years-old, however, the police discovered Lieu had been living in China illegally and deported her.
In her conversation with Mr Pike, Lieu didn't mention the son she was forced to leave behind. Her neighbours say she breaks down whenever she talks about him. But with World Vision's support, the young mother is learning to start life again.

"I received four pigs and pig feed," says Lieu of World Vision's support. "I sold them after raising them for three months for 16 million dong ($715 USD), part of which I used to buy four new pigs. I kept the rest as savings."

World Vision also invited Lieu to a workshop, where she met other local people to share experiences and learn how to avoid the traffickers.
"I wrote four pages about my story in China," she says. "It helped free me from the burden of my memories." In her text, Lieu describes how the bar owner electrocuted her when she wanted to leave.

"I miss my son very much. Now he has to grow up without my care," she continues, before saying she hopes her community will help her spend the rest of her life in Vietnam.

Recognizing the challenges Lieu faces reintegrating into society, Mr Pike encouraged her to keep moving forward. He said, "You are very brave to tell your story as raising awareness is the only way to prevent human trafficking. If you keep doing what you are doing right now, together with the support from your community and World Vision, your future is bright."
Over five years, the project in Quang Tri, Quang Nam and Yen Bai provinces the End Trafficking in Persons project has supported 51 victims of trafficking, including 32 in Yen Bai, in addition to the prevention and advocacy work.
*Name changed to protect identity
Grant Profile
Grant Project Name: End Trafficking in Persons
Funded by: Australian Department of Foreign Affairs and Trade (DFAT) - Australian NGO Cooperation Program (ANCP)
Time frame: 2011 to June 2016

Purpose and Objective: The End Trafficking in Persons Programme focused on three main pillars: Prevention, Protection, and Policy Advocacy.