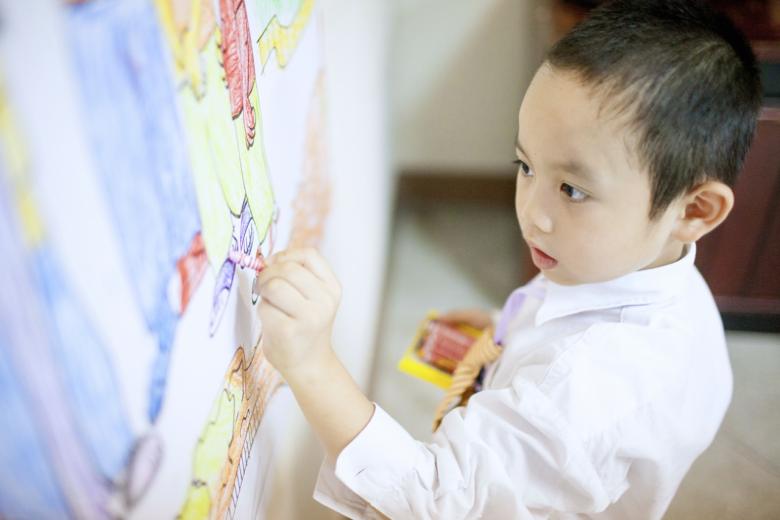 Everyone has the right to education - Vote for education!
Friday, June 19, 2015
The Ministry of Education and Training, in cooperation with World Vision and many other international and local organisations, held Global Action Week (GAW) on Education for All in Hanoi on May 28.

Entitled Everyone has the Right to Education - Vote for Education!, the campaign reaffirmed that every person's right to education must be promoted and protected and that non-discriminatory, quality education should be ensured to reach all, especially the most vulnerable.

It aimed to highlight Vietnam's achievements in the implementation of the Education for All (EFA) goals during the period from 2000 to 2015, address existing challenges in realising the unachieved goals by 2030, and reinforce the implementation of policies, programmes and measures to ensure quality, inclusive and equitable education as well as lifelong learning opportunities for all. 

Deputy Minister Nguyen Vinh Hien talked about challenges in achieving EFA goals in Vietnam at the national event. Photo: GAW in Hanoi. 
At the national event, Deputy Minister Nguyen Vinh Hien, other education leaders and managers, teachers and representatives of the international and local organisations talked about challenges in achieving EFA goals in Vietnam and proposed measures to remove current barriers.

Many questions were put forward, such as how to ensure the right to education for people with disabilities, especially the deaf, while special education hasn't been integrated into basic curriculum and there is still discrimination against the group.  

Along with the national campaign, World Vision cooperated with relevant authorities in organising discussions, painting, story-telling and knowledge contests at 13 districts, namely Mai Chau and Lac Son (Hoa Binh province), Tua Chua (Dien Bien province), Tran Yen (Yen Bai  province), Ba Thuoc and Quan Son district (Thanh Hoa province), Hai Lang and Huong Hoa (Quang Tri province), Son Tra (Danang), Tien Phuoc and Phuoc Son (Quang Nam province), and Bac Binh (Binh Thuan province) during the week. A total of 5,990 people, including 4,800 children, participated in the activities. 



During the week, World Vision organised many activities at 13 districts including Huong Hoa nationwide. Photo: Le Van Dong – Huong Hoa ADP

Fifteen years ago, world leaders of 164 countries, including Vietnam, made the promise of EFA by 2015, declaring that everyone has the right to education.

To implement the EFA goals, Vietnam developed the National Action Plan on EFA in period 2003-2015 which was endorsed by the Prime Minister. The Action Plan prioritised all six EFA goals and highlighted the strategic shift from quantitatively to qualitatively inclined education goals.

The country has been applauded for its achievements and commitments to the EFA goals. According to the Vietnam National Education for All 2015 Review, access to early childhood care and education (ECCE) for ethnic minority groups has increased, with ethnic minority children representing 16.3% of all children enrolling in pre-school education, and 99% of districts reported to have universalised primary education for school-aged children (six years old).

Text: Vu Thị Nga, Duong Tuong.