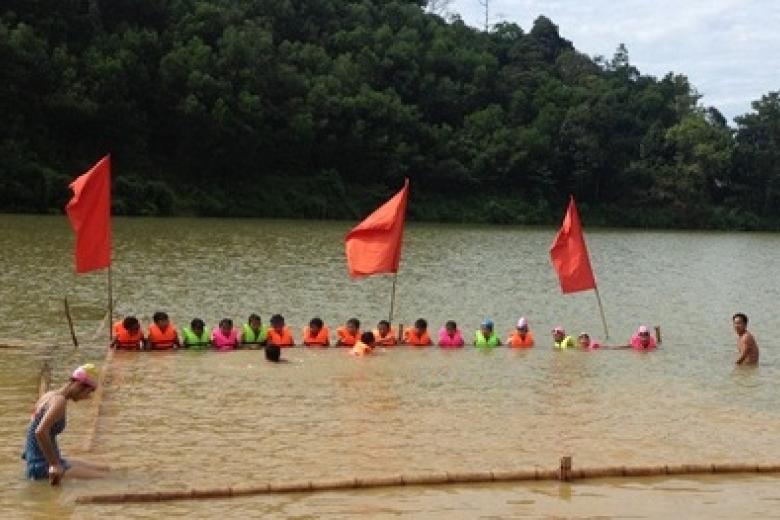 Everything's Going Swimmingly
Monday, June 30, 2014
Written by Nguyen Thi Dzung – Capacity Building cum MnE Project Assistant in Nhu Xuan ADP; Nguyen Thi Nam – CATREND Project Officer

"I didn't know how to swim, so I used to feel very nervous whenever I had to cross a stream during the rainy season," said Le Thi Hoai. "But now I can!"

Le Thi Hoai belongs to World Vision's sponsorship programme and was one of sixty children to be taught how to swim properly on 20-day courses co-organised by the orgnisation and local agencies in the northern province of Thanh Hoa. The swimming lessons were held in two districts of the province – Nhu Xuan and Hoang Hoa – in early summer 2014.

"They also told us to wear life jackets or go with adults when we cross the streams. The lessons were so helpful and exciting!" she added.

Tu, a boy from Hoang Hoa district, said, "At the end of the course, I was able to swim for quite a long way and the teachers taught us how to doggy paddle and do front crawl, backstroke and even butterfly."

Representatives from the local government and the children's parents agreed that such training courses are necessary to protect youngsters in the area.

"We worked with World Vision to provide the swimming course for local children, so that they can enjoy their summer safely," commented Mr Pham Ngoc Chieu – Head of the Project Management Board for the Yen Le community in Nhu Xuan district.

"The children often have to cross flowing water and swim for fun, so their new confidence in swimming is very important," he continued.

Mrs Le Thi Nguyet, a parent from Yen Le, described how she always used to worry during the summer months because her children weren't aware of the risks of playing in water.

"We [the local parents] are so glad that our kids have had the swimming lessons, which are the best way to prevent anyone from drowning. They've also learned about what to do if someone has an accident in the water," the mother explained.

Similar swimming courses will be organised for other children in the two districts later in the summer.

At present, World Vision runs a long-term Area Development Programme in Nhu Xuan district and a 'Central Areas of Thanh Hoa Province Resilient to Natural Disasters' (CATREND) project in Hoang Hoa district.