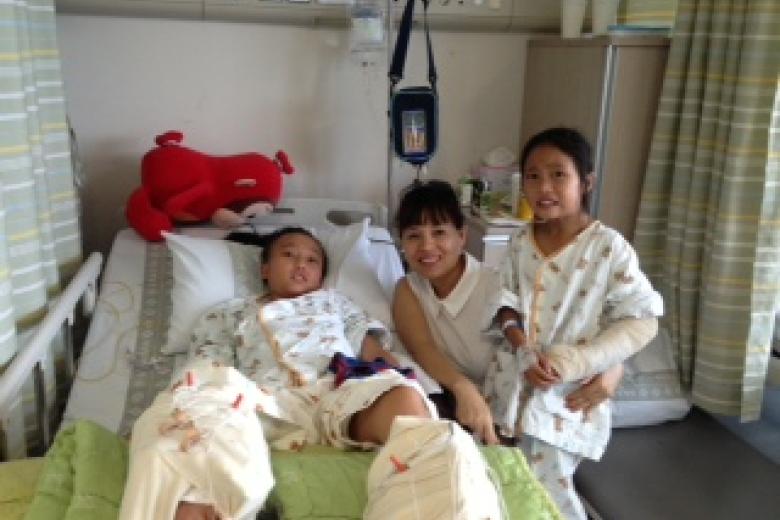 Facing the Future with a Smile
Friday, November 29, 2013
Written by Nguyen Hai Dang, Tram Tau ADP
Two years ago, Trinh could not form recognisable words or fully close one eye due to serious burns that had disfigured his face. To make matters worse, his parents in northern Yen Bai province did not know how to treat his wounds, which did not heal properly.
But now normal life has returned for the ethnic minority boy, who can smile happily without suffering any pain. Trinh's transformation is a direct result of World Vision's intervention after discovering his plight at his primary school in Tram Tau – a remote, mountainous district in Yen Bai – in late 2012.
To gain publicity for his story, World Vision contacted the makers of 'Love Connection', a programme produced by Hanoi Television, and also appealed to several national hospitals so that he could have treatment.
These efforts paid off when Trinh was sent to a hospital in Hanoi in December 2012. He and his father travelled to Hanoi ten times for a series of treatments, before the hospital transferred Trinh to South Korea for major surgery in March 2013.
Amazingly, Trinh returned to Vietnam with a new face and he can now smile naturally, although he must return to Korea for one final treatment.
In addition to Trinh's success story, World Vision's Tram Tau Area Development Programme team have helped other local children with physical problems.
Among them, Cha and Do were also sent to South Korea for treatment after World Vision introduced them to the 'Love Connection' programme.
Cha – who has just finished grade 5 at school – was born with severely bowed legs and she had to wear a specially designed pair of rubber boots for walking. However, she often walked on her knees, which hurt as a result.
Do was born in 2004 and lost the use of her left hand following a serious fever. Do was studying in grade 2, but dropped out after the damage to her hand.
Both girls were due to fly to South Korea for treatment on 30 July, but at the last minute, Cha's trip was put in jeopardy. Her mother decided to cancel the journey after fearing that Cha and her father, who was travelling with her, would not return from Korea or that the surgery would fail and make their lives worse.
Quickly, the World Vision team and local government officials contacted Cha's mother and managed to persuade her to change her mind.
After one month of treatment, Do and her father came back to Vietnam. The girl kept smiling all the way as she could move her hand easily.
 "I'm so happy and grateful," said Do's father, Mr Lu. "I want to thank everyone who has helped us and Do will be able to go back to school soon."
Cha and her father returned to Vietnam in August. Her operation has also been successful, but she will need more time to rehabilitate at a hospital in Hanoi.