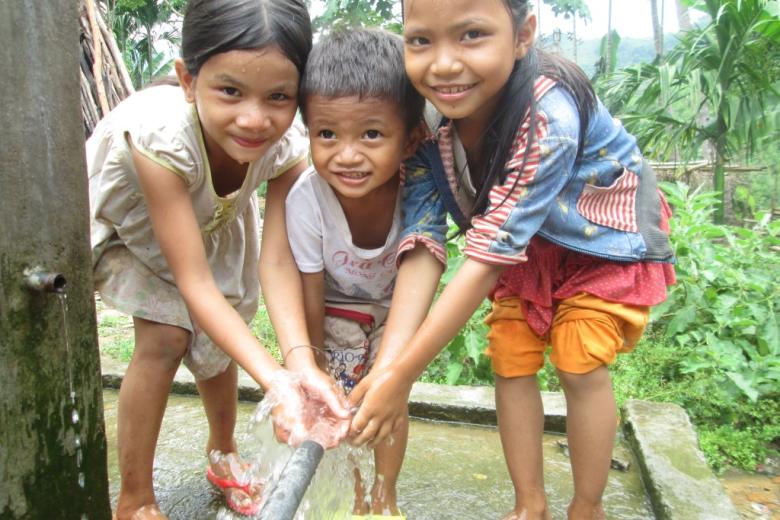 To Fetch a Pail of Water
Tuesday, February 25, 2014
Written by Truong Van Luu – Development Facilitator, Tra Bong ADP

Since plastic water pipes were installed in her village, Mrs Ho Thi Nuc hasn't had to fetch water from a nearby mountain and carry it back home, meaning she can spend more time with her children.

Born and growing up in a mountainous village in Tra Bong district in central Quang Ngai province, the 36-year-old mother was used to water being arduous to obtain. However, these days her family enjoys a ready supply of water for their daily cooking, washing and bathing needs.

"The water now runs directly to our village, so it's very convenient," said Mrs Nuc. She added that her family and other villagers all use the water from the pipes and they only go to the mountain to get water when the weather is very dry.

Before, Mrs Nuc had to walk to the mountain for water every day, which took her half an hour. She could only carry back two small cans of water per time, so all of her family had to use the water very economically.

"I had to walk to the mountain several times a day to get water," Mrs Nuc recalled. "With that and my other work, I didn't have enough time for my young children."

Mrs Nuc also explained that many children went to the streams with their mothers to bathe or play, but as most of them cannot swim, they were at risk of drowning.
 
Many natural water sources surround Mrs Nuc's village, including numerous streams and waterfalls, but they are all relatively far away by foot.

Local villagers used to use several methods to get water back to their homes, including makeshift networks of bamboo pipes. However, these few simple systems could not provide enough water for the community's daily use.

Due to the water shortage, parents were not able to take good care of their children's personal hygiene, meaning many of them developed scabies, dermatitis and sore eyes.
A change came to Mrs Nuc and the other villagers in 2013 when World Vision's Tra Bong Area Development Programme (ADP) provided support to install dozens of plastic water pipes and three water tanks. Water runs from the mountain through the pipes and is collected in the tanks for the villagers.
Nearly 160 poor families had access to the new local water supply in 2013, according to Mrs Vo Nguyen Uyen Thi, Manager of the Tra Bong ADP.
However, villagers remain concerned about the safety of the new water source as deforestation and environmental pollution may contaminate the water, according to Mrs Tran Thi Kieu Anh, a local volunteer with World Vision.
"I hope local people can learn about keeping their water clean and that more water pipes will be installed in my village," she said.