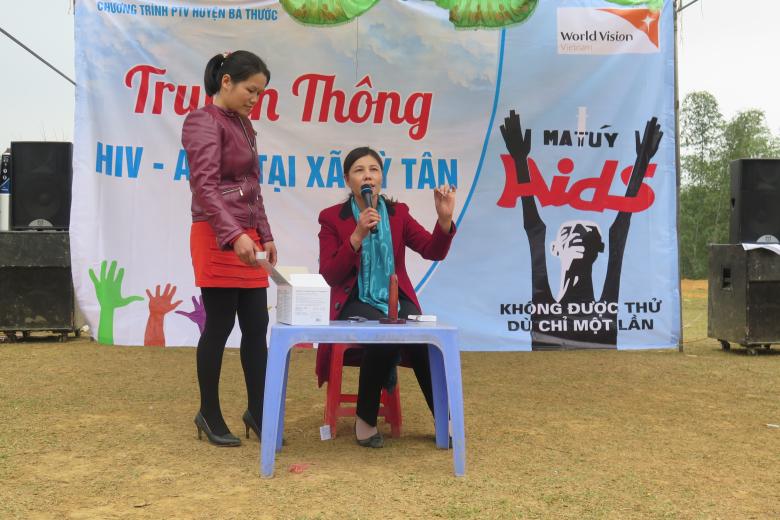 Fighting against HIV/AIDS
Wednesday, June 1, 2016
To equip local people with fundamental knowledge of HIV/AIDS prevention, World Vision in Ba Thuoc district, Thanh Hoa province, in cooperation with local authorities, has set up a communication club through which its members can share relevant information and help HIV patients integrate into their community.
Including 15 core volunteers of which two are HIV-positive, the club members meet up every month. They have learned how to protect themselves from HIV transmission and how to take care of people who are living with HIV. Most importantly, they have developed understanding and sympathy towards people with HIV, giving HIV patients comfort to fight against their disease and restore their hope in the future.
"Having been infected with HIV from my husband, I used to feel self-pity and lose hope in life. But I've been encouraged a lot by the volunteer team since I joined the club. I want to be a volunteer too so that I can help people who are in the same situation as mine", says Ha Thi Tinh, a club member.
Every month, World Vision staff and local authorities in Ba Thuoc district support the club members to organize a communication event that attracts about 1,400 people to attend.
"We will continue to try our best in this fight against the HIV/AIDs epidemic in our homeland," says Ha Van Xuong, leader of Van Nho district's communication club.
Vietnamese text by Nguyen Thi Huyen, Ba Thuoc ADP
English version by Tran My Hang