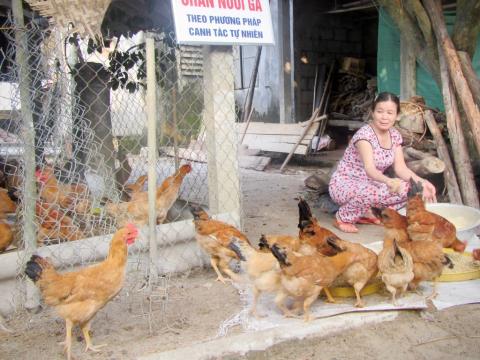 Healthy food, healthy environment
Tuesday, January 12, 2016
"I had never heard of the natural farming model until I joined the project. Before, I would always use chemical fertilizers, pesticides, herbicides in planting and synthetic feed in husbandry," says Hoang Thi Gai, a farmer in Trieu Tai commune.

She is a mother of three, two of which have left home to work in the city; only the youngest daughter, who had polio, is staying with the family. Her husband works at the commune health station but cannot offer her much help with the farming work.

"We rely on this [100-square-meter] garden," Hoang says.

For the past three months, half of the garden has been fenced up for chicken, the other half used for vegetable growing. This forms a closed production cycle – fermented animal manure fertilizes the vegetables, part of which in turn becomes clean feed for the animals.
I learned that this technique not only assures safe farming products but also protects the environment.
"I registered to apply the natural farming model along with four other households in my village as soon as I learned that this technique not only assures safe farming products but also protects the environment."

The project provided each household with:
100 day-old chickens
Instruction on vaccinations
Training on coop building
Chicken raising techniques
Instruction on how to make fertilizer from chicken manure using IMO-3 [Indigenous Microorganism]
"Thanks to this new technique, all my chicken are still very healthy and the unpleasant odor in the chicken coop is completely removed. These chickens will soon be ready for sale. I will keep some as breeders, some as food for my family, and sell the rest to increase our income," Hoang said.

"This is a very effective model. We [the five participating households in the village] are taking notes of the positive changes compared with old farming methods to share with other farmers in our village as well," she adds.

So far, 30 households in six villages have been supported with the chicken - vegetable model and 40 households in four other villages with the pig - rice model. All 70 households contributed construction materials and labour to making livestock enclosure, following natural farming method.

Benefiting households also received coaching from agricultural extension workers before, during, and after livestock provision. They also meet up to share experiences with each other.

"This newly introduced model has proved its many strengths: producing healthy food source, generating more income for farmers, and protecting the environment. It has also stimulated the supportive spirit among households through group meetings," Ms. Loc, an agricultural extension worker, comments.

The natural farming model is only one among many other environment-friendly models and practices promoted by the Enabling Environmental Protection Project.
Grant Profile:
Grant Project Name: Enabling Environmental Protection in Trieu Phong district, Quang Tri province
Funded by: Korean International Cooperation Agency (KOICA) and Korean Exchange Bank (KEB)
Time frame: 1 year (1 March 2015 - 30 March 2016)
Purpose and Objective: To contribute towards the sustainable environment, both agricultural and residential, of Trieu Phong district through the promotion of environment-friendly models.

Project Outcome 1: The project will promote environment-friendly practices through increased accessibility of environment-friendly models for households.

Project Outcome 2: The project will catalyze active involvement of local government and community in environmental protection in target communes.

Project Outcome 3: The project will enhance saving practice among participating households.