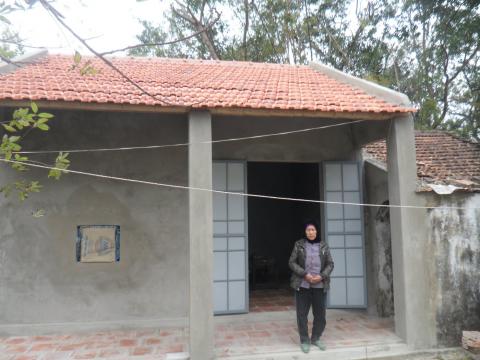 A home that is resilient to natural disasters
Wednesday, May 6, 2015
Grant Project Name: Thanh Hoa Disaster Risk Reduction (Central Areas of Thanh Hoa Province Resilient to Natural Disasters (CATREND))
Funded by: The Australian Department of Foreign Affairs and Trade 
Time frame: 5 years (1 October 2011 – 30 June 2016) 
Purpose and Objective: To reduce the impact of natural disasters affected by climate change in the coastal areas of Thanh Hoa province, Vietnam.
Project outcome 1: The project will reduce communities' vulnerability to natural disasters and climate change.
Project outcome 2: The project will enhance the capacities and inter-agency coordination of the Centre for Flood and Storm Control (CFSC) and related agencies at provincial level in Thanh Hoa to roll out the national Community-Based Disaster Risk Management (CBDRM) programme (Decision No. 1002) and other nationwide policies on disaster risk reduction and climate change adaption.
MEET A woman BENEFITTING FROM THIS PROJECT: 
Only one corner of her home was untouched after the typhoon tore through Vietnam's central Thanh Hoa province, with the rest of the old structure crashing down.
Photo: Surviving the typhoon that destroyed her home, Nguyen Thi Bon sheltered in the only corner still standing until World Vision's natural disaster project built her a new one. 
"I was so scared the house would fall on me. All my stuff was drenched," recalls Nguyen Thi Bon of the huge storm three years before.
A mother of six, the 74-year-old lives alone as three of her children have died, one to disease and two in accidents, and the rest have moved south in search of work.
With few savings and nobody to rely on as her children hadn't contacted her for years, Ms Bon had no choice but to continue living in the fragile corner of her old house. Living in constant fear that the fragile structure would collapse and fall on her, she could never sleep well.
A new home
Aware of the elderly woman's dangerous living conditions, World Vision helped build a new house for her in 2014 by providing construction materials worth over $1000 US.
And after contributing nearly all of her $400 US life savings, the foundations were laid for the new concrete house, with the woman's neighbours assisting with the construction.
"I could never have dreamed of having such a home because I'm too old and frail to work," Ms Bon says. "Every night I stayed in my old place, I felt unsafe and couldn't sleep well, especially when it rained."
"During storms, I won't run for shelter in my neighbours' homes anymore," she adds, "I want to thank World Vision and my wonderful neighbours for building my house."
Training for disasters and climate change
Along with over one thousand vulnerable households living in Hoang Hoa district, Ms Bon has also taken part in training to adapt to climate change and prepare for potential disasters. It is key is for each household to draft an action plan of what to do when a storm is approaching and how to stay safe when it arrives.
"I may be old, but now I can deal with storms on my own."
Ms Bon says: "Although I can't read or write [due to poor eyesight], I've still made my disaster plan thanks to my neighbour's help. Now I feel more confident; I know what to do before, during and after a disaster to keep safe.
"Before a storm, I need to listen to the news of its path on the radio or from the village's public address system.
"I also need to store drinking water and food and pack some stuff for an evacuation. I may be old, but now I can deal with storms on my own."
The housing assistance and training that Ms Bon received forms part of World Vision's 'Coastal Areas of Thanh Hoa Province Resilient to Natural Disasters' (CATREND) project in Vietnam.