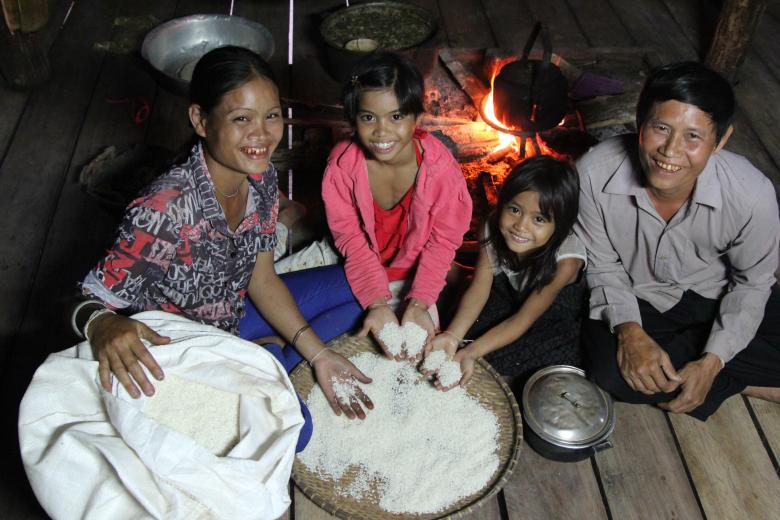 Hungry for Attention
Wednesday, September 17, 2014
"We often went hungry because our rice fields relied on rainwater and if there was a drought or a flash flood, there wouldn't be enough rice to eat," remembers Mr. Treo. "On those occasions, we had to scour the hills for every single cassava there was just to have something to eat," the 50-year-old says.
With precious little food, local men had to leave their village in the mountainous district of Son Tay, found in Vietnam's central Quang Ngai province, in search of casual work.
"We walked for days and stayed for months, working as day labourers on coffee plantations or planting acacia trees [to produce paper] just to make a bit of money to bring home," he adds.
His wife Mrs Len, 33, says: "We [the women of the village] had to go deep into the forests to find rattan to sell for food. Meat was rare and our children had to stay at home with no one to look after them."
Food shortages have affected the community much less since World Vision started working with the community 10 years ago.
The couple's daughter, My, recalls, "World Vision workers taught my parents how to raise animals and then gave them a cow seven years ago, when I was four and my sister was only a few months old. My mum says that World Vision trusted us to have the cow, which is an asset, and it has since given birth to four calves," the fifth-grader recounts with a smile.
"She told me that my dad would've had to work away from home for years to save enough to buy one," the 11-year-old adds.
My was born to a Hre ethnic minority family. Her younger sister Ly is now seven years old and is in grade one at school.
"Our parents are at home more now, so Ly and I feel safer because we see them every day. They still come home from the paddy fields sweaty and covered in mud, but they look much happier than before because they can harvest more rice," My shares.
The girl explains that local farmers abandoned their traditional slash-and-burn technique to create fields for proper rice paddies after attending World Vision training sessions, while higher yields have evaporated any doubts toward the change. My also describes how her family have adopted animal husbandry as a second source of income.
"My mum carried Ly on her back for days while she helped my dad make an animal shelter in our backyard," she says. "They collected old metal sheets for the roof and fresh grass for the new cow. It was the first cattle shed that I'd seen in our village."
Raising livestock is a new livelihood not only for My's parents, but also for many others in the area, with World Vision providing support to rear pigs, chickens and ducks, as well as cows, for additional income.
My reports, "My parents plan to sell some of our animals so they can afford to make our house bigger and buy pigs to rear. They're going to keep the cows too to pay for our education."
"I'll go to a new school after the summer, which is a one-hour walk away, so I'm going to ask my dad to buy me a bike," she reveals.
"I've already promised them that I'll try my best in school because I want to be a teacher here."
My's family is among nearly 4,200 that World Vision has helped in Son Tay, with over 5,000 children having better lives as a result.