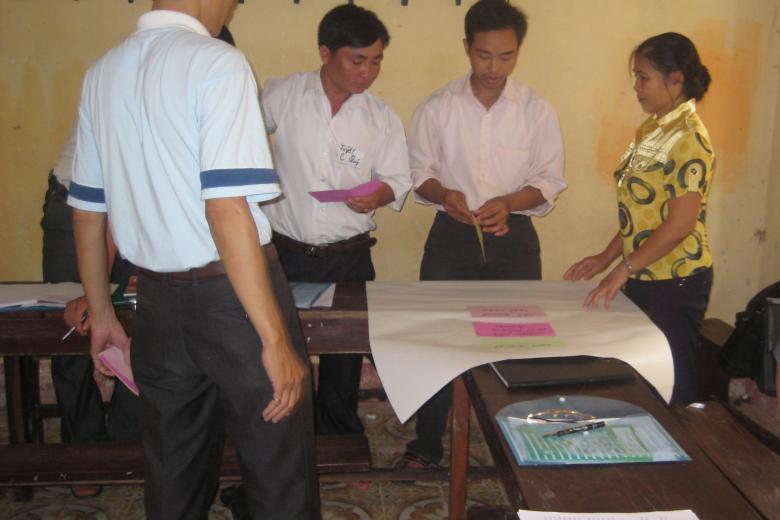 Jobless Farmer to Senior Local Leader
Tuesday, September 24, 2013
Written by Le Thi Ngan and Le Tat Do – Project Assistants, Cam Thuy ADP
 
Ten years ago, Mrs Quach Thi Nhan found herself unemployed after graduating from a college in Thanh Hoa province specialising in agriculture and forestry. With no paid employment, she stayed at home and helped with the work at her family's farm in Cam Thuy district.

Life is very different these days for Mrs Nhan. Now, she is a senior leader in her community in her role as vice chairperson of the People's Committee in charge of local economic development.

"I'm happy with my life today and I want to thank World Vision," Mrs Nhan said. "Working for World Vision allowed me to develop my knowledge and skills and this helped me get my current job."

Unable to find salaried employment in her hometown, Mrs Nhan volunteered for World Vision's agricultural projects in Cam Thuy. It was difficult at first, however, as she lacked information to pass on to her fellow villagers.
 
"I tried to teach local people about intensive rice cultivation and effective ways to raise animals, but I didn't know enough about the subjects, so I just talked about my experience," the woman recalled.

This situation changed after Mrs Nhan participated in a range of World Vision training courses, which equipped her not only with new knowledge of agricultural techniques, but also of general skills, such as event organisation, proposal writing and group management. Newly trained, the woman was able to assist her community far more.
"The training courses provided me with a better understanding of agriculture, as well as education and health issues," she continued. "This has made me more confident about training others on these topics."

"For example, I was able to help some villagers to write a formal proposal on improving their children's playground," the woman said. "And after I discovered some insect pests in a field, I was able to tell the others about effective ways to get rid of them that I learnt on my course on integrated crop management."

"What I've been most impressed with is the work World Vision does to improve the lives of poor children and people with disabilities," Mrs Nhan added. "For instance, it's great that they get to celebrate their birthdays and receive bicycles, desks and blankets."

She went on to praise World Vision's project to improve access to credit for local people. "With the small loans, the villagers can now buy and raise animals, start small businesses, and afford their children's education," she said.

Mrs Nhan is a mother to two teenage sons and is working hard to make the hopes she has for her family and community become reality. "I hope everyone who lives here will escape poverty and all poor children will be able to go to school," she concluded.