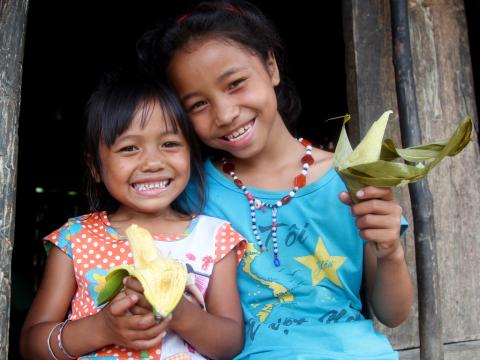 Join Sam for a nutritious lunch
Tuesday, October 6, 2015
Sam, 9, an ethnic minority, often has lunch at home cooked by her mum with home-grown products. Her mum stays home more often to take care of her and her two sisters, Xuyen, 5, a kindergarten pupil, and San, 2, and they no longer go to school with an empty stomach.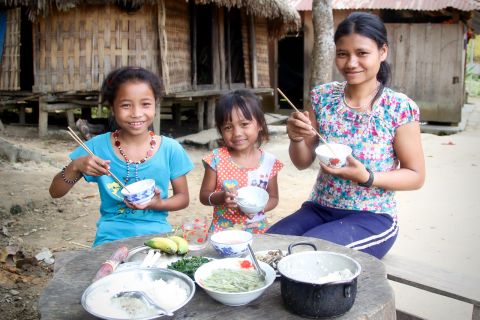 Sam's parents received training from World Vision, especially for wet rice, their main food source. Her parents, like other villagers, now are able to plant wet-rice and cut down on their former slash-and-burn methods in the Dong Giang mountainous district, Quang Nam province. They also received training on nutrition and home gardening to produce more nutrients for their meals with vegetables and fruit trees.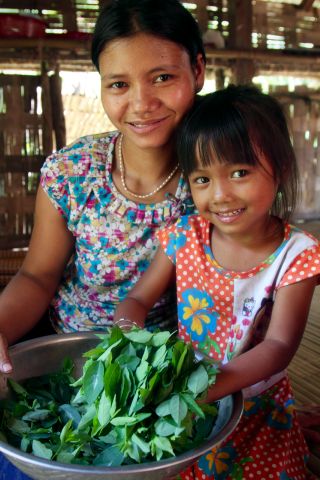 "I like to eat rice with fried eels and vegetables soup. But I like the most our traditional rice cakes. We often call them buffalo-horn cakes," says Sam. "We often bring some along to school and eat them during break. They make me keep pace with other friends to school. They help me stay in class listening my teacher's lessons, but not anxious for something to eat like before."
To prepare traditional rice cakes of the Co Tu ethnic minority, Sam's mother starts by gathering broom leaves in the hills. She presses the leaves with her bush-hook, which must be done quickly so that the leaves don't dry up and shrink out of shape. She wraps rice with broom leaves, then boils the cakes for about one hour.

The dining-table was made by her father, Son, with just a plank of a tree trunk. What's for lunch for Sam today?
Her mum prepared a full and nutritious lunch with home-grown products:
- Rice that her parents planted in their wet-rice fields
- Eels fried with ginger and citronella from their fish pond and farming plots
- Boiled 'ngot' vegetables and loopah soup from their vegetable garden
- Fish sauce with ginger; her mum buys fish sauce at the village grocery
- Rice cakes, buffalo-horn cakes, made with the rice that her parents planted in their fields
- Banana and sugar-cane from their vegetable garden
- A cup of boiled water from their gravity-fed water tap