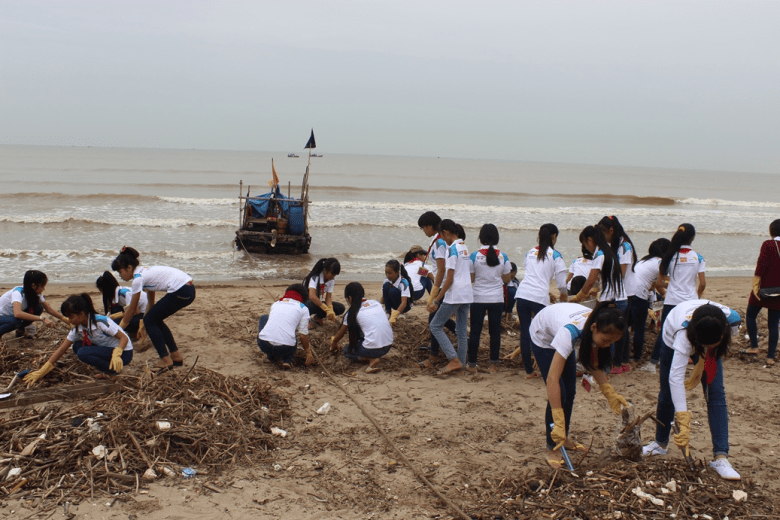 Knowledge for life
Friday, October 30, 2015
World Day of Disaster Reduction 2015
Knowledge for life  
At a diaglogue held in Hai Phong, participants shared their experiences in using traditional knowledge and modern technologies for weather forecast and disaster prevention.
More than 500 residents and students living in two districts of Hoang Hoa and Quang Xuong in Thanh Hoa province participated in the meeting on October 13, 2015, in response to World Day of Disaster Reduction.
With this year's topic "Knowledge for life", the local people shared a range of traditional wisdoms for storm prediction. They used to rely merely on observing the weather phenomena such as rainbows and colours and shapes of clouds. Unusual activities of insects and animals were also of their concern.
To better mitigate disaster risks and damage, at the meeting, the participants learned the advantages of using their traditional experiences together with modern knowledge and techniques such as speakers, radio systems and transceivers.
After the meeting, the rapid response teams' members marched around the districts while fifty local students picked up litters along the beaches as responsive actions to World Day of Disaster Reduction. The activities also aimed at raising local communities' awareness of protecting environment.
In Hai Phong city, World Vision and Tien Lang district's People's Committee co-organised a dialogue that was also focused on the topic "Knowledge for life". 
"This dialogue aimed at raising local people's awareness of disaster prevention through using tradition knowledge and modern technologies," said Vice President of Tien Lang district's People's Committee, Mr Tran Van Khanh.
"It is very important for local authorities to enhance community-based initiatives and experiences related to climate change adaptation and disaster risk reduction," said Head of Tien Lang district's Department of Dyke Management and Flood Prevention, Mr Nguyen Duc Tho.
Vietnamese texts and photos: Vo Thi Thu, Tong Van Tra – CATREND; Cao Phan Viet – HRCD