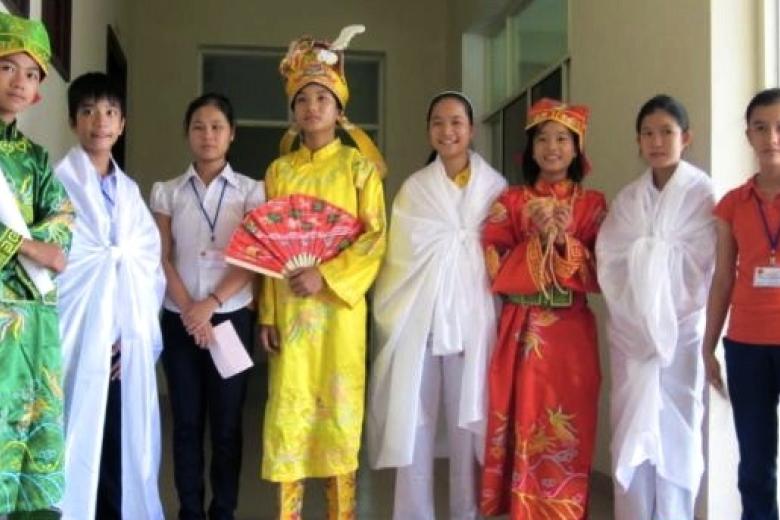 Live for the Weekend
Friday, November 29, 2013
Written by Le Thi Lan Anh – Former core member of a children's club in Hai Lang district
 
Nowadays, life skills are very important and I was lucky enough to learn many after I joined the children's club at my junior secondary school.

After five years at primary school, I started my first year at the junior secondary school. At that time, World Vision's Hai Lang Area Development Programme had just opened the first children's club in the area and my classmates chose me to be a member of its core group as I was one of leaders in my class.

The other members of the core group didn't know anything about how to organise our club's activities and nor did I, so we were taken on a day trip to Dong Ha – the main town in Quang Tri – to a  'Weekend Playground' model.

I have many happy memories of that trip and learned a lot of interesting lessons. We left home at 5pm and travelled with some other youngsters from Hai Xuan community. It didn't take us long to make friends with each other and I still keep in touch with them.

When we arrived at the town in the evening, we went to have a look at the weekend playground. The name is a little misleading, as it is actually a programme of games and other activities held every Sunday night at the Quang Tri Children's Palace.

I was so happy there and thought I had arrived in another world full of fun. There were many exciting traditional games, including quizzes with funny and interesting questions. After giving the correct answer to one question, I won a photo frame, which I put on my table as a reminder of the wonderful trip.

The staff at the Quang Tri Children's Palace told us about their experience of organising the weekend playground and other activities run by the school children's clubs. We also learned more about the most famous person from our town, former General Secretary Le Duan.

Though the trip didn't last long, it was a great experience and gave me lots of useful knowledge. I have been an active and enthusiastic class leader since the trip and I feel more confident than before.   

After the trip, the Hai Lang ADP team gave me chances to join many training courses, such as on children's rights, life skills, disaster risk reduction, and child injury and accident prevention. I also took part in a forum for children in Hai Lang district and then another one for Quang Tri province as a whole in 2010.

I've left the children's club now because I'm a student at high school, but I've joined the youth union in Hai Lang instead. But I still see happy children at the weekend playgrounds or while doing other children's club activities, which makes me happy too.