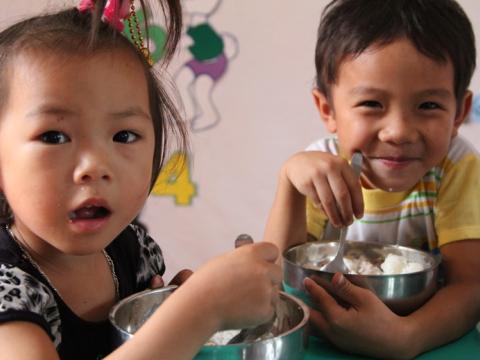 A menu for change
Friday, February 27, 2015
by Vi Van Thuan – Quan Son ADP Coordinator
With nutritious lunches now on offer at her kindergarten, five-year-old Pham Ha Nhu Tam is healthier and no longer wants to skip any classes.
"Last year, Tam was one of our most malnourished children. She weighed only 15.5kg, but now she weighs 18kg," says preschool head Nguyen Thi Thin as she watches her enjoying lunch with her friends.
Tam lives in Trung Luong, a poor, mountainous area of Quan Son district, Thanh Hoa province where a lack of food is common and being able to provide sufficient nutritious meals for children remains a dream.
Aware of this critical situation, World Vision took the decision to support the district's preschools in 2009 by upgrading their facilities, providing them with teaching materials and toys and, most importantly, funding meals for the children.
Deputy head of Trung Thoung's preschool, Vi Thi Vinh, says, "Our lunches are very diverse. We change the meal every day by using chicken, pork, beef and fish with various kinds of vegetables.
"The children really like the food and many have gained weight. They're also more interested in going to school. Our attendance rate for children ages two to five has increased from 49% in 2011 to 97% in 2014, while the proportion of malnourished children has decreased from 11.5% in 2013 to 10% in 2014.
"Also, the classroom is clean and safe and we have enough materials and toys for the children to learn and play with, which encourages parents to send their kids to school."
To strengthen the community's role and develop its independence, World Vision has reduced its lunch subsidies in Quan Son from 60% in 2014 to 30% in 2015. Instead, the schools and local government ask parents to contribute rice, vegetables or firewood for cooking, which are affordable and available locally.
Nguyen Thi Thin adds, "The parents have supported us a lot because they know that nutritious meals for their children can save them time and effort and they can farm without worrying about their children.
"Seeing the children enjoying their meals and gaining weight makes us happy and keeps us moving forward."