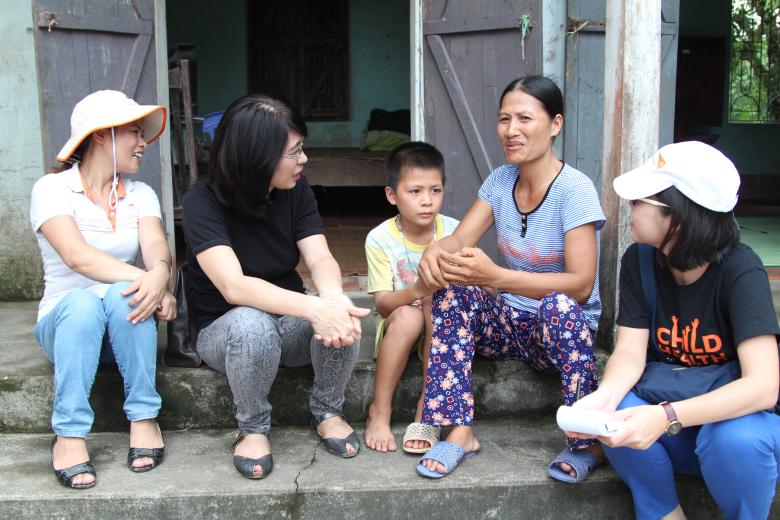 New-found confidence
Wednesday, September 28, 2016
Born with malformation in her legs and arms and bypassed by other villagers, Tham was recluse in her community. She chose to live a quiet life with her adopted child Thuong, who is now eight-years-old.
Without capital, land and literacy, her full-time job was peeling lotus seeds, which only earned her roughly 6,000 dong ( about 3 cents) a day.
Today, the single mother is expecting her cow and pig to bear some offspring. "It all started with the cow," says Tham.
The livelihood means were provided to her when she decided to step out of her shell and join other mothers in World Vision's nutrition club which is also a saving group for the members to pool money and rotate the loan among themselves.
"I got loan and bought a cow. I was taught how to rear it and take care of it during pregnancy," Tham lists the support she received.
"After some months, I sold the first calf and used the money to invest in a pig and a brood of chickens," Tham continues.
Her son has helped her a lot in this stage of transformation.
She proudly tells "He knows I have difficulty moving around, so he helps me to bring the grass and straws [her neighbors give her for free] back from the field to feed the cattle beside some other every day house chores."
Every day, Thuong helps his mother feed the cow which is now the main source of income that helps Tham secure good nutrition and education for her child.
Beside the joy at improved livelihood, Tham rejoices at her son's uplifted spirit.
"He is also much more cheerful now thanks to the new friendships he has made with other children in the village," Tham explains how World Vision-established children's club has influenced her son.
Tham's relatives are deeply impressed by her improvements and her new-found confidence. Some have even asked to join her groups.
"It is greatly rewarding to see the change in not just Tham and Thuong but also the whole community. People care about each other and are willing to offer help," shares Bui Thi Thanh Hang, manager of World Vision's program in Tien Lu district where Tham and her son live.
 Smiles are often seen in the faces of the mother and her son now as they both have made friends with many good people in their commune. 
Tham's only worry now is for the offspring to be healthy and survive the critical first months. "A secured income from selling the offspring means secured education for my son and secured health care for both of us."