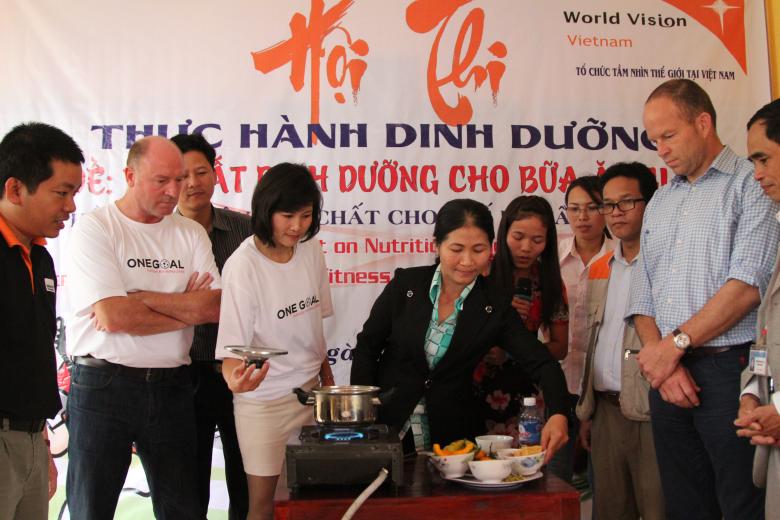 Popular Footballers Visit World Vision Nutrition Clubs in Vietnam
Friday, March 21, 2014
Text: Tran My Hang, Nguyen Kim Ngan
Photo: Le Thiem Xuan

Vietnam's Golden Ball winner Ms Do Thi Ngoc Cham and English professional footballer Mr Stephen McMahon visited World Vision nutrition activities in Hai Lang district in the central province of Quang Tri on March 20.

The two footballers participated in activities that educated mothers in rural communities on how to prepare food for their small children and provide better childcare. They also attended food demonstration and joined a football game with the clubs' members. 

Ms Cham and Mr McMahon are part of an effort to raise awareness on the importance of nutrition and how improved nutrition can benefit the next generation of child and youth football players in developing countries such as Vietnam.

"Today, together with community members in Hai Lang district, I have experienced how to cook a nutritious soup for children by using simple ingredients such as shrimps, vegetable, onion and oil," said Ms Cham whose son is 16 months. "I hope children – our future footballers - will have their nutrition taken care so they will have a good health."


The two footballers played a game with members of nutrition clubs.
After taking part in the field activities, Mr McMahon said, "Today is a fantastic experience to me. I have been to a lot of places but this really makes me feel special indeed."

"Regarding the nutrition, I have been very fortunate over the years: working hard and having professional health, because I was a professional sports person. You haven't got that kind of help. And thanks to World Vision, you are getting an opportunity to look up this works in a better way because health is the most important thing in life," he said.

In Vietnam, 17.5 percent of children under five years are underweighted and 29.3 percent suffer from stunting, according to the General Nutrition Survey conducted by the National Institute of Nutrition in 2010.

To address child malnutrition, World Vision launched nutrition clubs as an integrated, community-based, sustainable approach in 2007. Today, there are more than 520 nutrition clubs in provinces where World Vision is working, reaching approximately 17,000 children under the age of five.

Ms Cham was a striker for the Vietnam National Women's Football Team in the late 2000s. She started her career as a football player at the age of 17 and won the Vietnam Golden Ball Award in 2008. At present, she works as a football expert commentator for a television channel and a coach of a children football club in Hanoi.

Mr McMahon is a former English professional footballer, manager, and is now a sports television commentator. He played for Liverpool in the late 1980s. Mr McMahon is ranked 42nd on the list of 100 best players of all time. He is currently a football commentator for the Asia-based sports broadcaster ESPN Star Sports.

At present, World Vision operates 47 long-term development programmes and 18 grant projects in 15 provinces throughout Vietnam. Every year, 2.5 million children and community people benefit from World Vision's programmes in the country.