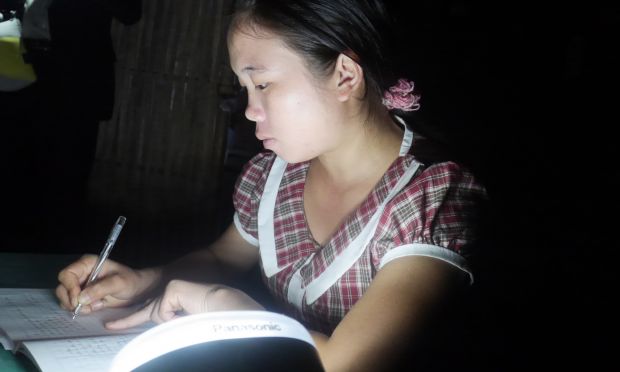 Children and their communities in four mountainous districts in the northern province of Dien Bien can now use solar lanterns for their study and daily life while they haven't gained access to national power. Through World Vision, Panasonic Corporation presented the first lanterns to local leaders and villagers on March 16.

"The national electricity grid hasn't reached our village yet, so my pupils and I find it immensely difficult to learn and to teach at school. With the gift of lanterns, I will no longer need to use oil lamp when preparing my lessons at night. The children will have good light at class, even on rainy and cloudy days," says Vang Thi Ho, a teacher of a village-based kindergarten in Hua Ngai community, Muong Cha district.

A total of 630 solar lanterns will soon be allocated to nearly 290 groups, including health clubs, village-based primary schools and kindergartens, child reading clubs, health stations, village rapid response teams, and village meeting halls in Muong Cha, Tuan Giao, Dien Bien Dong and Tua Chua districts.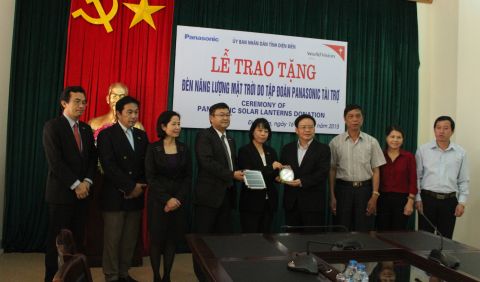 World Vision and Panasonic Corporation's representatives presented solar lanterns to leaders in Dien Bien on March 16. Photo: Nguyen Xuan An/World Vision.

The equipment will be helpful not only for people's daily lives but also for emergencies that happen during night time, such as transporting patients from their houses to local health stations or promptly responding to forest fire or landslide.

World Vision's Area Development Programmess in the four districts will work closely with Panasonic Corporation to follow up the use of donated lanterns to make sure optimal effectiveness and thus positive impacts on children's and villagers' lives.

At present, local people, particularly ethnic minority groups, only can use electricity generated from water but the source is hardly available during dry season.

Written by Tran Pham Hien – Acting Manager of Muong Cha ADP.