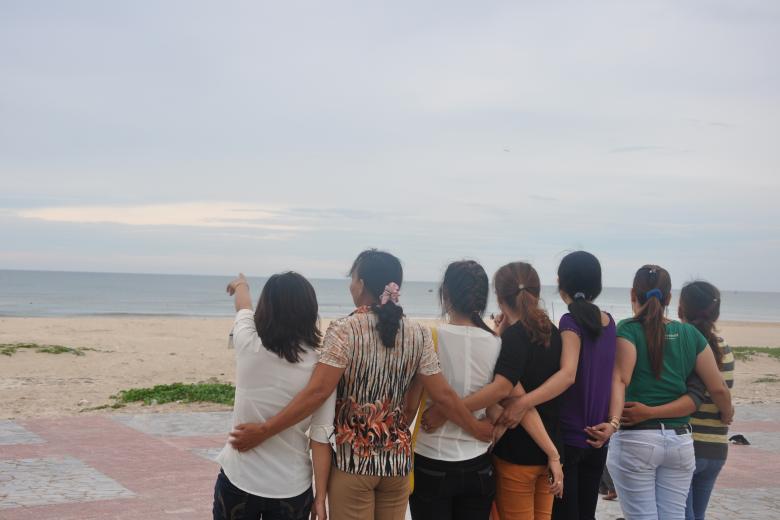 An Understanding Nature
Wednesday, July 30, 2014
Written by Le Viet Anh – Policy & Advocacy Project Coordinator, ETIP Programme

Tran's* father was a heavy drinker and often hit her and her mother when drunk. The family from the central province of Quang Tri struggled financially because Tran's mother could not do any physical work due to her husband's violence towards her. The 16-year-old dropped out of school to sell fruit on a nearby bridge.

Soon after, Tran's luck changed – or so she thought.
The teenager quickly accepted a high-paying job offer in China, but when she arrived in the country, she was immediately sold to the owners of a brothel.
She was forced to be a sex worker for 18 months until she managed to escape and flee home to Vietnam.
Tran is now 29 years old and has two children, but she has been unable to find a good job because she left high school without any qualifications.
SUPPORT TO RESTART UPON RETURNING IN VIETNAM
Tran is one of seven women who joined a life skills training course in Quang Tri for former victims of trafficking. World Vision organised the course as part of its End Trafficking in Persons (ETIP) programme and in association with the provincial Department of Labour, Invalids and Social Affairs.
A staff member leads a group exercise with the women.
Official records dating back to 1994 reveal that traffickers have forced 30 women from Quang Tri into marriage or the sex industry in China and Laos.
To date, 25 have returned, but most remain isolated within their communities, while feelings of uselessness further obstruct their reintegration into society.

The seven women learned about:
Self-awareness
Identifying personal values
Thinking logically
Living positively
The goals for the group were to recognise their strengths as well as their weaknesses, to gain confidence and self-respect, and to find beauty in their daily lives.
"Before, I never told anyone about my past because I didn't want them to think of me as a victim of trafficking," says Nguyen*. "But talking to people on the course who understand what I went through has made me feel much better."

After calling on others to understand, share with and show love to victims of trafficking, the group had the opportunity to express their thoughts and recommendations to local authority representatives.

"The course was very useful and should be run regularly because understanding what has happened to these women helps us to focus our policies and activities and address their needs," said Hoang Tuan Anh, Vice Director of Quang Tri's Department of Labour, Invalids and Social Affairs.

*Name changed to protect identity.