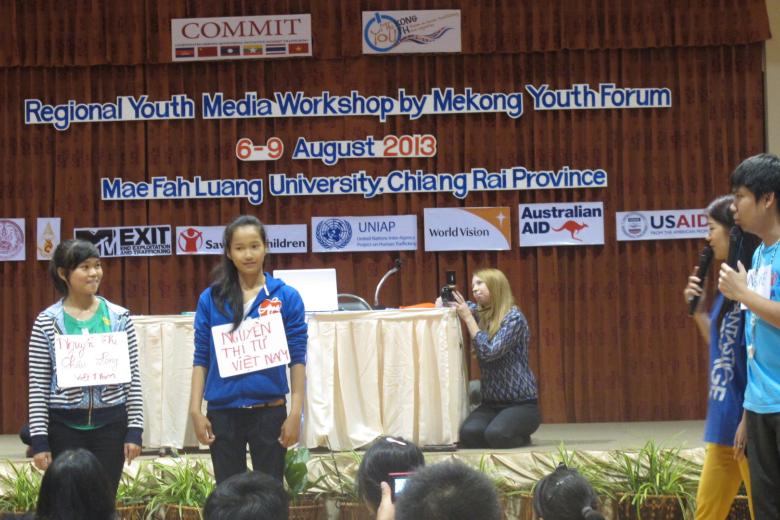 Vietnamese Teenagers Join Mekong Regional Anti-Human Trafficking
Friday, August 30, 2013
Text: Tran My Hang – Communications Officer
Photo: Nguyen Thai Minh Minh – ETIP Project Assistant
 
Six teenagers from Vietnam joined with 30 other young people from the six Greater Mekong Sub-region (GMS) countries to discuss about how to effectively fight against human trafficking at a regional event in Chiang Rai, Thailand on August 7-9.

The six juveniles were aged 15-17 and selected from the most vulnerable communities to trafficking in Quang Nam and Quang Ninh provinces, which are working areas of World Vision and Save the Children, respectively.

At the 'Youth Communication' conference, the children and others from Cambodia, China, Laos, Myanmar and Thailand shared their understanding and experiences about human trafficking as some of them used to be victims of being trafficked. 

The young people were improving their capacity to deliver creative anti-trafficking campaigns in their communities that use drama, art and video to inform young people about the risks of cross border migration for work. They also gave their recommendations to regional government officials on finding initiatives to stop the crime. 

The participants' suggestions will be presented to the governments' representatives at the Senior Officials Meeting (SOM10), which is scheduled to be held in 2014.
The conference was co-organized by Thailand's Ministry of Social Department and Human Security, World Vision, Save the Children, MTV Exit and the United Nations Inter-Agency Project on Human Trafficking (UNIAP).

The aim of the conference was to raise awareness of young people, the governments and non-government organisations on how to conduct an information-sharing guideline and enhance more effective prevention mechanism against human trafficking.

As an initiative of Mekong Youth Forum, the conference was launched in 2004 and then took place in 2007 and 2010. The forum is a hotspot for young people from communities vulnerable to human trafficking to exchange their knowledge, information and experiences of human trafficking and to make initiatives for the sake of combating with the crime.

Three of the children from Vietnam are from Nong Son district, Quang Nam province, in which World Vision is implementing End Trafficking in Persons (ETIP) programme. Three others come from Mong Cai district, Quang Ninh province, in which Save the Children is implementing the "Protecting Children on the Move in East and Southeast Asia" project.

In the communities the youth representatives live in, many children drop out of school due to their families' financial difficulties. Therefore, they can easily take a risk of being trafficked.

According to a report released by the 130 Steering Committee of the Vietnam's Ministry of Public Security in 2013, there were 500 human trafficking cases, involving 800 traffickers and 3.800 victims in the country in 2012.