Clients of World Vision's Micro-finance honored
Thursday, December 8, 2016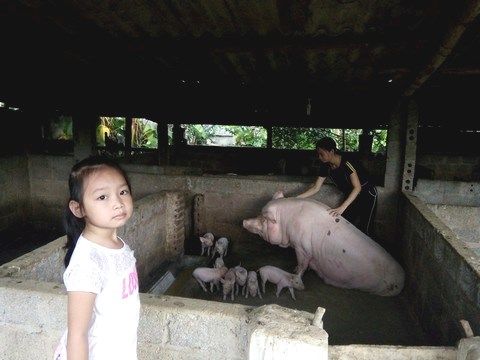 Ha Noi, 7 December 2016 – Microfinance Unit of World Vision Vietnam is pleased to have two clients to be honored for their contributions in the development of microfinance in Vietnam.
We have recently been informed by the organizers of the Citi Microentrepreneurship Awards program – Vietnam 2016 (CMA 2016).
The program is an annual activity sponsored by the Citi Foundation/Citi Bank – Vietnam, to value customers and microfinance institutions with outstanding contributions to the development of the microfinance sector in Vietnam, contributing positively to poverty reduction.
According to the organizers, Ms. Phung Thi Thuy, a Unit client in Lang Chanh, Thanh Hoa, is honored as "Citi – Vietnam 2016 Microentrepreneur of the Year", the highest honor for an individual.
Another client, Ms. Truong Thi Hong from Trieu Phong, Quang Tri, is among 30 "Citi – Vietnam 2016 Achieving Microentrepreneurs".
Microfinance Unit of World Vision Vietnam is also honored as one of 3 "Citi – Vietnam 2016 Typical Microfinance Institutions".
The honors are the recognition of the efforts by Ms. Phung Thi Thuy and Ms. Truong Thi Hong to escape poverty. With modest loans and hard-work from their own hands, they have improved their family economy and at the same time, contribute creating livelihoods for their communities.
It is also a recognition of the efforts by Microfinance Unit of World Vision Vietnam in providing poor households with appropriate economic assistance, helping communities to thrive from their grassroots, ensuring child well-being, which is the very target of World Vision Vietnam.
The Citi Microentrepreneurship Awards program – Vietnam 2016 (CMA 2016) takes place in Melia Hotel, 44 Ly Thuong Kiet, Ha Noi, at 10:30 - 12:00 on 12 December 2016.
===========
* Microfinance Unit (MFU) of World Vision Vietnam was established in 2006 as a specialized, significant and moving towards sustainability unit, working in close integration with WVV projects/programs and strong cooperation with local partners.
MFU's mission is promote transformational development through provision of micro finance services to the poor and their children living in and around WVV project areas.
After 10 years of operation, MFU has disbursed 670 billion VND to more than 29.000 households, creating seed capital for the poor and low income to set up and or expand business, generating jobs and increasing assets/ income, thus improving quality of their lives and child well being while contributing to the poverty reduction of the community where we work.
** World Vision is a Christian relief and development humanitarian organisation, working to improve the quality of life of people, especially children, who are marginalised and living in poverty. World Vision helps all who are in need regardless of their religion, race, ethnicity or gender.
World Vision started working in Vietnam with emergency relief assistance in 1988 and opened an office in Hanoi in 1990. Since 1990, World Vision has implemented many relief and development programs, partnering with the Vietnamese government, other non-governmental organisations and communities. World Vision's long-term development programs are currently operated in 39 districts of 14 cities and provinces throughout Vietnam.
For more information on World Vision's projects for farmers, please kindly contact:
1. Pham Thu Trang – Communications Officer, World Vision Vietnam
Mobile: 0936 066 933
Email: pham_thu_trang@wvi.org
2. Hoang Thuy Chung – Communications Officer, World Vision Vietnam
Mobile: 0985 192 504
Email: hoang_thuy_chung@wvi.org