World Vision Vietnam kicks off project to end violence against children
Friday, January 6, 2017
Ha Noi, Jan 06 2016 - End Violence against Children (EVAC) project of World Vision Vietnam (WVV) was kicked off today with the goal of helping children and youth in 17 communes of 4 districts in the provinces of Yen Bai and Dien Bien protect themselves from the risks of violence.
This important project of WVV aims to create an environment in which vulnerable children and youth (girls and boys of 12-24 years) are cared for and protected from child trafficking, abuse, neglect, exploitation, and all other forms of violence, within supportive families and communities.
The project covers 17 communes of Luc Yen and Van Chan districts of Yen Bai province, Muong Cha and Tuan Giao districts of Dien Bien province, with the time span of 4 years (2016 - 2020).
Tentative budget of the project is USD 1.56 million, sponsored by World Vision USA.
Today kick-off meeting received representatives of governmental and local partners such as Ministry of Labour, Invalids and Social Affairs, Ministry of Public Security, relating provincial departments, leaders of the districts covered by the project, international and non-governmental organizations. 
In her opening remark, Ms. Tran Thu Huyen, WVV National Director, emphasized that child protection - a difficult social issue, can not be tackled by any entity or individual alone.
"This is not the first time we have cooperation, WVV has had many chances to work with provincial and district, even communal, departments of Labour, Invalids and Social Affairs, international organizations such as UNICEF, PLAN International, as well as other countries in the region", said Ms. Tran Thu Huyen.
"We share the goal of creating the best conditions for the development of the children, preventing and fighting off the risks that can lead to the abuse against children, building a safe place to care for and protect children".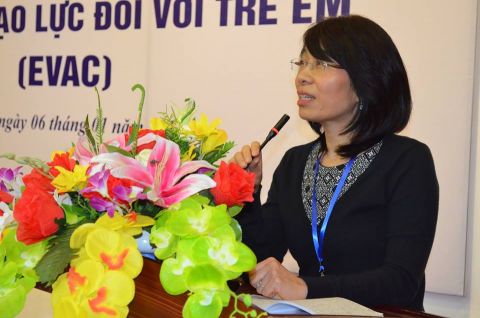 In order to successfully deal with the recent emerging complicated violence against children such as early marriage, exploitation, trafficking, abuse, etc., Ms. Huyen emphasized by the importance of the change in mindset and culture, which are posing as biggest obstacles for development activities in general and ending violence against children in particular.
Sharing about the reality of violence against children in Vietnam, Ms. Than Thi Ha, Operations Director of WVV provided a few numbers: 3.000 - 4.000 cases of violence against children yearly, including the murder of 100 children and sexual abuse of 1.000 children. 
About 5.600 cases of child sexual abuse has been detected in the years 2006 - 2011. 5.300 cases of child sexual abuse nation-wide in the years 2011 - 2015. The average age of the victims is 9 years old.
Nearly 74% children aged 2-14 has been violently punished by parents, care givers or family members; nearly 24% married women with kids under 15 reveal the violent behaviors of the husbands and fathers. 
According to that, Ms. Than Thi Ha gave the remark: "Violence against children can be in many forms. The protection of children is not limited in ending violence but has to improve the education quality, develop the livelihood and reduce disaster risk".
Informing about the EVAC project, Mr. Duong Ngoc Khanh, Project Manager, emphasized the expected outcomes in terms of empowering children and youth with skills and knowledge; providing families and caregivers with access to adequate and appropriate services; strengthening communities to work together to create a safe and protective environment for children; reducing systemic barriers to address violence against children, including trafficking.
The project will focus on the activities of capacity building, knowledge sharing, vocational training and start-up, legal assistance, policy advocacy, dialogues, communication, etc., with the priority given to most vulnerable children and families.
Discussing at the meeting, Ms. Pham Mai Hien, presentative of the Ministry of Public Security, appreciated the approach of practical and community-led activities, saying that it is in line with the commitment of the Government in the policies of fighting human trafficking, including children trafficking.